Integrated Report 2022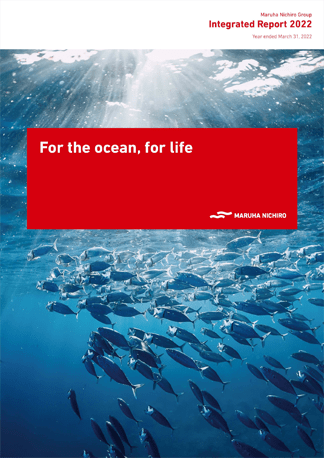 The Maruha Nichiro Group has redefined the management vision from a long-term perspective to realize its meaning of existence and backcasting a roadmap for discontinuous growth. With the aim of setting a concrete path for this roadmap, we have formulated the new Group's Medium-term Management Plan, with FY2022 being the first year of the three-year plan.
This report is with the purpose of informing our stakeholders of the reason for formulation of the Medium-term Management Plan, ties between the financial strategy and the non-financial strategy, and to provide an opportunity for dialogue.
Promote business by integration of business strategy and sustainability
Overall picture of financial management to realize the New Long-term Corporate Vision and the Medium-term Management Plan
Practice value creation management and strengthen the business foundation for sustainable growth
Download for Separated Files
Sustainability Report
coming soon
The Sustainability page on our website includes the latest Sustainability Report about our sustainability activities, achievements, and developments in FY2021 centered on the main objectives (materiality) of the Maruha Nichiro Group Medium-term Sustainability Management Plan (FY2018 to FY2021).
Presenting information about the Group's initiatives in an easy-to-understand format for our wide range of stakeholders, the report provides sustainability information based on the Core option requirements of the Global Reporting Initiative (GRI) Sustainability Reporting Standards to ensure the accuracy, transparency, and completeness of the information.
Data on the Group's labor and environmental performance are available at the following links
Personnel and Labor-Related data
Environmental Data
Back Number