Basic Approach
Each and every employee's mental and physical health and the ability to maximize their individuality and abilities will lead to the sustainable growth of the Company. The Maruha Nichiro Group will promote activities to practice health management in cooperation with the Health Insurance Association and our employees.
Health Management Policy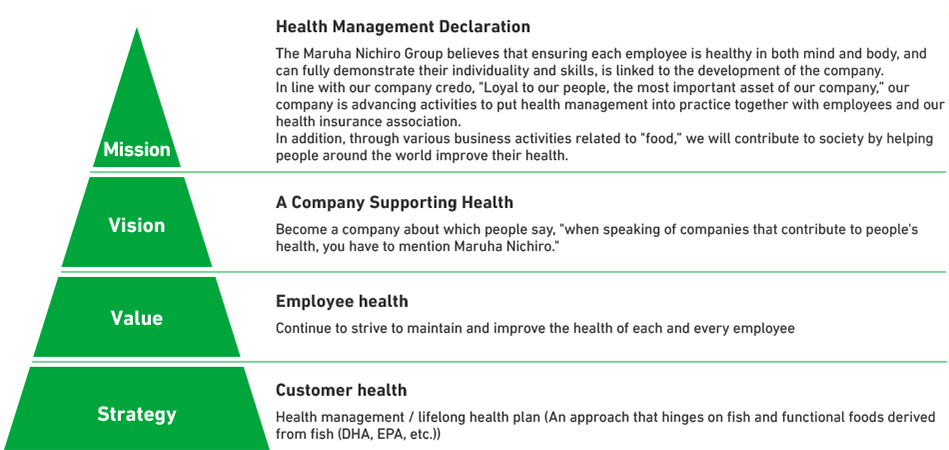 Strategy map
In this expert organization, Maruha Nichiro Corporation health issues are organized according to our health management framework, and goals are arranged as follows.
Target
Framework for Health Management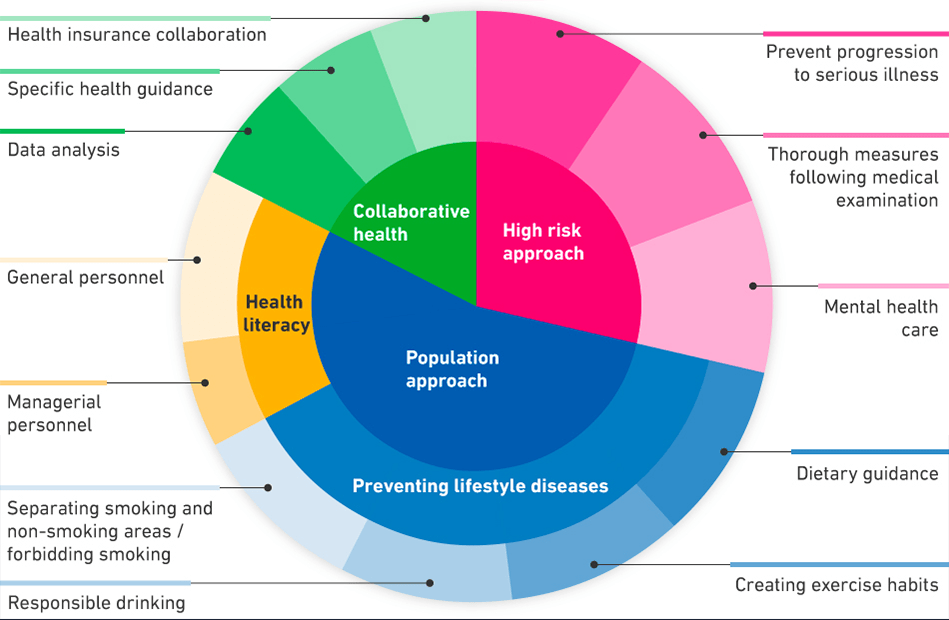 High risk approach
-Achieve zero deaths from untreated patients requiring medical treatment and zero deaths from incumbency by providing thorough individual guidance
-Strengthen health check follow-up measures and achieve 70% secondary health checkup participation rate
Population approach
-Conduct seminars for employees to improve health literacy and foster health consciousness and prompt behavioral changes / Aim to achieve 70% or more willingness to change behavior among seminar participants
-Hold corporate events that incorporate food, sleep, and exercise as a series of activities, and aim for an achievement rate of at least 50% of employees' voluntary goals.
Management Structure
Maruha Nichiro Corporation has established a specialized organization under the supervision of the Managing Executive Officer, consisting of the Maruha Nichiro Health Insurance Association, the Human Resources Department, and the Maruha Nichiro Health Promotion Office (industrial physicians, public health nurses, clinical psychologists, and nursing clerks).
Chart of Health Management Promotion Framework (Maruha Nichiro Corporation)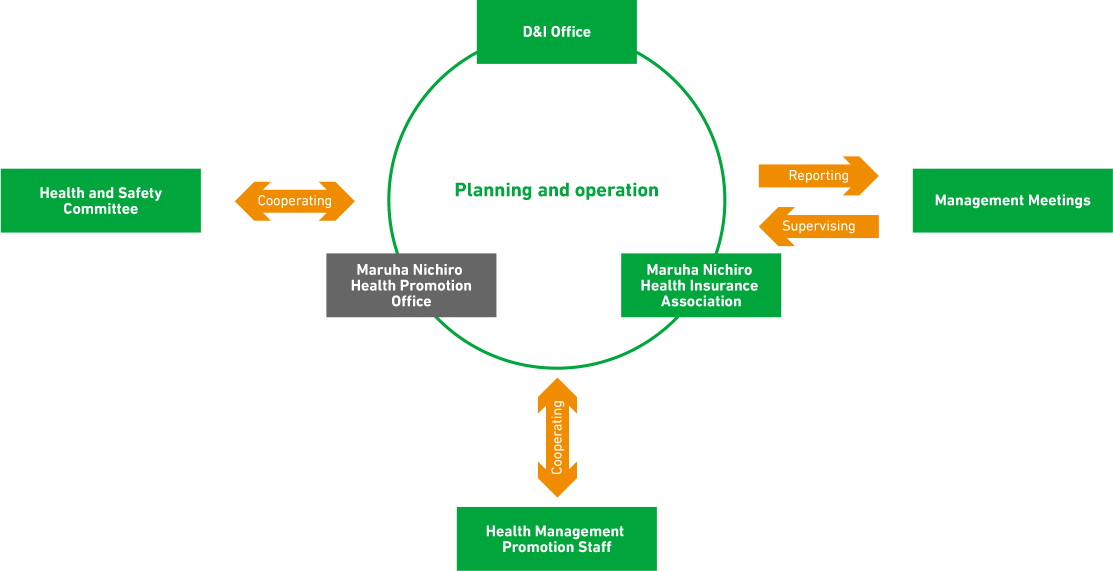 To promote health management throughout the Maruha Nichiro Group, we explain the significance of our efforts and share case studies at Group Labor Relations Managers' Meetings and Health and Safety Committee Meetings.
Main Contents of the Regular Monthly Meeting
(Participated by Human Resources Department, Maruha Nichiro Health Promotion Office, and Maruha Nichiro Health Insurance Association)
Construction of health management strategy map
Formulation of measures
Analysis of health checkup and specific health guidance data
Measures to prevent serious illness
Follow-up for employees posted overseas
Mental health, etc.
Maruha Nichiro Health Promotion Office
The Maruha Nichiro Health Promotion Office, located at the head office, also functions as a clinic, with an industrial physician (4 days a week), public health nurse, and clinical psychologist (every weekday) on staff to support the physical and mental health of our employees. The office also provides follow-up health checkups for employees on loan and those posted overseas, as well as information dissemination.
Support by Maruha Nichiro Health Promotion Office
Medical examination and consultation
Prescription of about 50 kinds of medicines
Provision of over-the-counter medicines according to symptoms
Hospital referrals (issuance of letters of introduction)
Private beds・Sanitary care products
Health checkup follow-up
Support for employees working long hours
Stress check for high-stress employees
Support for employees returning from leave
Providing influenza vaccinations
Lending of books on mental and physical health and LGBTQ+ issues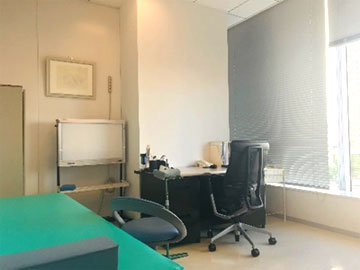 Maruha Nichiro Health Insurance Association
The Maruha Nichiro Health Insurance Association promotes health management in cooperation with the Human Resources Department to support the maintenance and promotion of the health of its members.
Health Service Policies by Maruha Nichiro Health Insurance Association
Health Examination
We focus especially on diabetes management and primary and secondary prevention of cancer.
Specific health checkups and specific health guidance
In cooperation with industrial health staff, we strive to prevent serious illnesses.
Data health planning and collaborative health
We analyze receipts and medical checkup data, etc., to identify medical expenses, stratify health risks, and identify highly effective subjects for health projects, and share this information with occupational health staff.
Dental Health Consultation
Dental health consultations (dental health examinations, dental checkups) are conducted periodically to prevent dental caries (carious teeth) and periodontal disease, and to detect and treat dental disease in its early stages.
Prevention of Infectious Diseases
Subsidies for influenza vaccination are provided.
Educational activities for health promotion
With health management at the core, we focus on raising awareness of lifestyle-related diseases, self-medication, etc.
Health Management Promotion Staff
One person in charge of health management promotion is assigned to each department at the head office and to each branch office and plant to strengthen employee participation in health management. Once a quarter, a meeting of health management promotion officers is held to provide information and exchange opinions.
Examples of Health Management Promotion Staff Meeting Content
What is Maruha Nichiro's Health Management?
Health checkups and follow-up measures
Mental Health and Return-to-Work Support
Introduction of health insurance association
Introduction of measures and report on implementation
History of Maruha Nichiro health management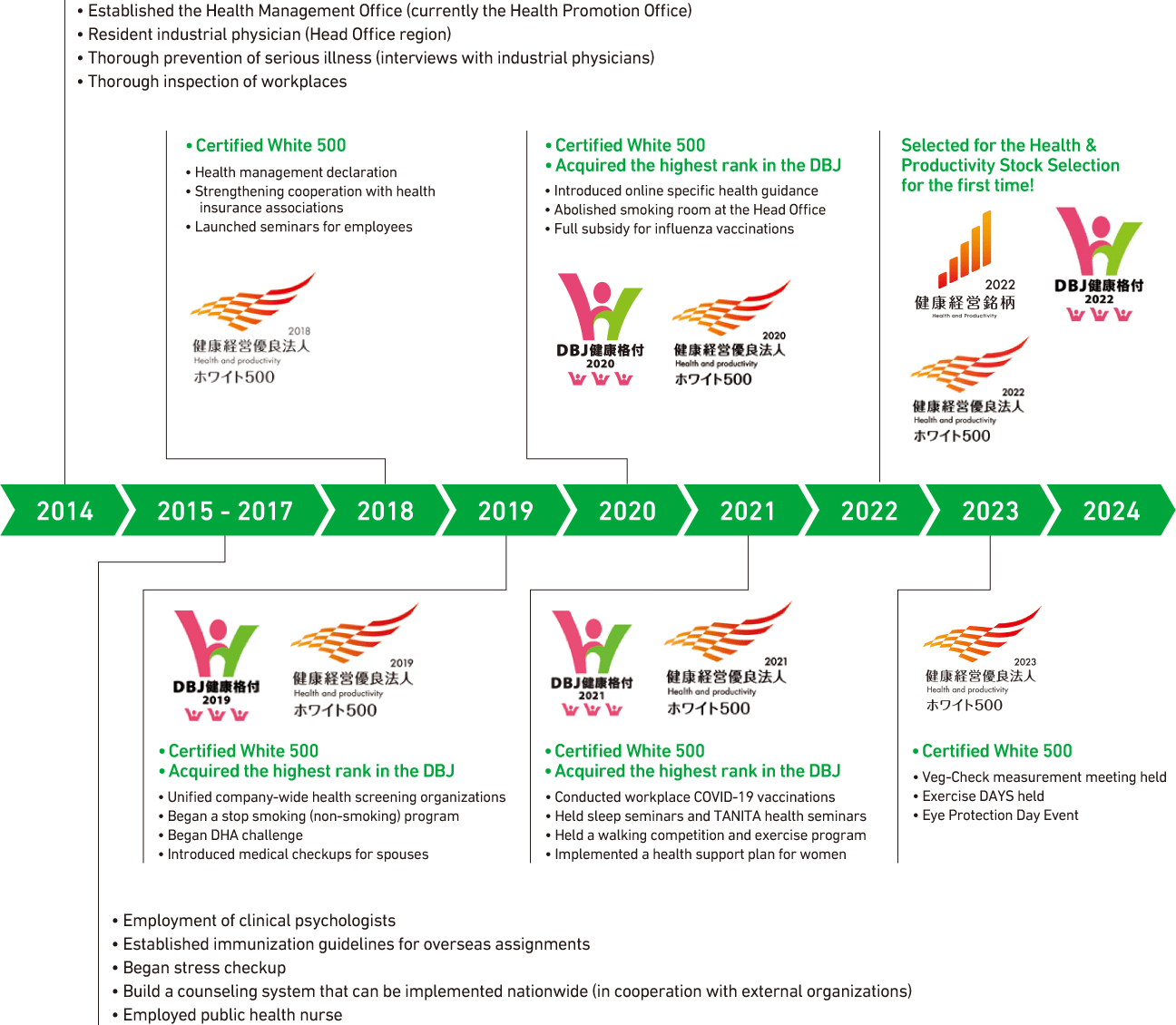 Main Initiatives in FY2022
At Maruha Nichiro, we are promoting initiatives for both "physical" and "mental" health.
Initiatives for "Body"
Health Checkups and Subsequent Measures
Maruha Nichiro Co., Ltd. conducts more comprehensive health checkups by adding its own checkup items in addition to those required by laws and regulations. While aiming for a 100% health checkup rate, the company is also working to improve the figures for post-medical checkups by providing individual guidance by public health nurses and fully covering the cost of secondary checkups. As a result, various numerical improvements have been recognized.

Maruha Nichiro Corporation's own additional medical checkup items
Abdominal ultrasound
Fundus examination
Uric acid level
Rubella antibody
ABC checkup (gastric cancer risk test) *Performed at age 27 and 35 (stomach X-ray for age 40 and over)
Fecal occult blood (colorectal cancer screening)
Breast ultrasound (breast cancer screening)
Efforts to Promote Health Management Using In-House Products
The "DHA Challenge," which was implemented for three consecutive years starting in fiscal 2019, was a core project of our health management, as a total of more than 400 employees ate our DHA-containing products, and all of them showed improvement in neutral fat. The three-year initiative has been a central part of our health management plan, as it has shown a certain degree of success in improving triglycerides, health issues are not limited to triglycerides, and exercise, not just food, is essential to achieve good health, In addition, health issues are not limited to triglycerides, but are also individualized, and exercise is essential in addition to diet to achieve good health.

Through this initiative, we aim to help people understand their own health status in preparation for health checkups, strengthen (Boost) their health (Wellness) by practicing well-balanced dietary habits and exercise habits, and help each person to be in a good state (Well-being) mentally, physically, and socially. We are committed to providing a wide range of services to our clients.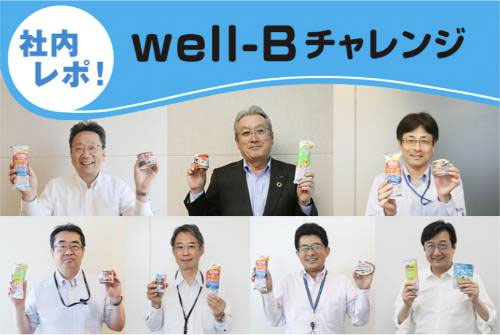 The DHA Challenge and well-B Challenge initiatives have improved the prevalence of lipids.
Prevalence of lipids after DHA challenge and well-B challenge in Maruha Nichiro Co.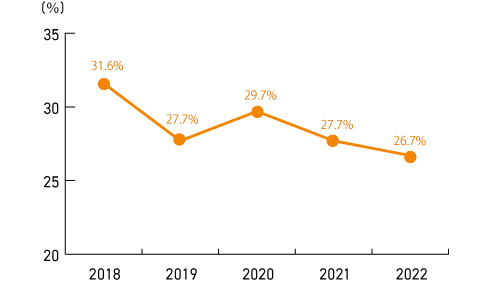 After the program is completed, the results of the health checkups of the participants are analyzed, and awards are presented to employees who have shown particularly outstanding improvements in results and behavioral changes.

The number of participants in this program is increasing every year, and the management system is being strengthened.
Number of Participants in the DHA Challenge and Well-B Challenge

DHA challenge
well-B challenge
FY
2019
2020
2021
2022
2023
participants
100
151
193
221
295
Efforts to Reduce Smoking Rates
Efforts are being made to reduce the smoking rate among employees by providing free online interviews and app-based support titled "Graduated Smoking Program" starting in 2019.

As a result, a decrease in smoking rates has been observed. We will continue our efforts with the goal of reducing the smoking rate below 12%.
Smoking Rates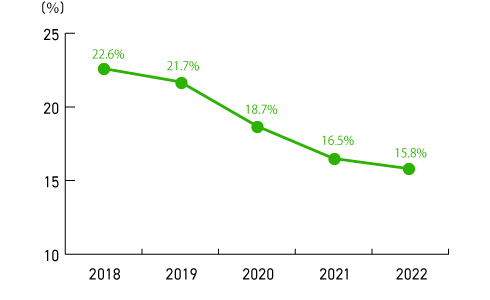 Providing Healthy Meals
Maruha Nichiro Co., Ltd. has introduced "office nosh," a health-conscious boxed lunch that contains less than 30 g of sugar and 2.5 g of salt per serving. By offering sales hours until the evening, the lunchboxes can be used not only for lunch but also for dinner or to-go. In addition, sales are handled by the Nanairo Support Team, which employs people with disabilities.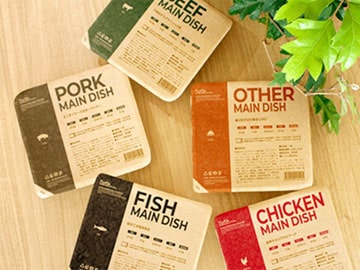 Initiatives Related to Mental Health
Stress Check Implementation and Analysis
Maruha Nichiro Corporation has been conducting stress checks at all of its business sites since fiscal 2016 in accordance with the December 2015 introduction of mandatory stress checks. The goal is to respond early to those with mental disorders or pre-morbidities, and to improve the workplace environment. The results of the post-implementation analysis will be reported to the management meeting to strengthen the follow-up for workplace improvement based on the data.
Status of Stress Check Implementation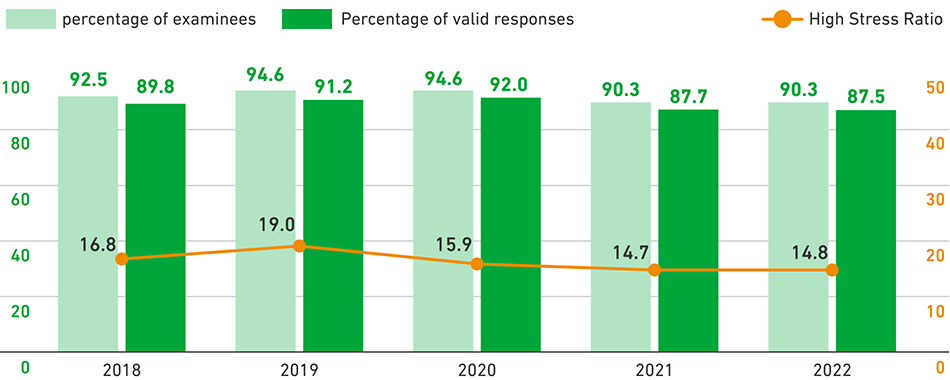 In addition, the company measures presenteeism (a state in which employee performance is declining due to physical or mental health problems) at the same time as stress checks, and uses it as a productivity and performance indicator. Maruha Nichiro Corporation is working to eliminate presenteeism with the goal of achieving a performance score of 65 or higher.
Score of Presenteeism

| FY | Number of people measured | response rate | Score |
| --- | --- | --- | --- |
| 2021 | 3,449 | 90.30% | 64.4 |
| 2022 | 3,387 | 90.30% | 64.4 |
Measured by WHO-HPQ methods.
0 to 100 points, with higher actual values indicating better performance.
Preventive Measures against Mental Health Problems
Maruha Nichiro Co., Ltd. has named the program "Kokoroba" so that employees can easily consult with clinical psychologists and other professionals to prevent mental health problems, and is promoting its use within the company. In fiscal year 2022, all 50 new employees were given individual counseling by a clinical psychologist.

In addition, as part of our mental care program, we have introduced company-wide "Bukasil," a 1-on-1 meeting. While this is partly to foster a corporate culture, it also aims to ensure that supervisors are good interlocutors for their subordinates and pay attention to how their subordinates are doing from a comprehensive perspective, including their health. Furthermore, we have introduced a mentor system to improve the quality of relationships, or primary prevention.
Initiatives to Improve Employee Health Literacy
New Employee Training
Maruha Nichiro Corporation provides opportunities for new employees to deepen their understanding of D&I and health management during their training, and introduces the meaning of "Diversity & Inclusion" and its position in our company, the meaning of "health management" based on the concept of D&I, and our actual approaches to it in order to create a corporate culture that includes the future generation. and our actual approaches to it.
Efforts to Eliminate Lack of Exercise and Establish Exercise Habits

FY
Events
Contents
Number of
participants
2020
Exercise Lesson Video Streaming
Video distribution of a total of 4 exercise programs, "home version" and "office version," in response to the Corona Disaster.
Viewed 705 times
2021
Walkinpic
Aim for the gold medal by earning points for the number of steps taken + physical activity (METS) + participation in the exercise program
252
2022
Steps Competition
Steps competition as part of well-B Challenge 2022
221
2023
Steps Competition
Steps competition as part of well-B Challenge 2023
295
2023
Exercise DAYS
Exercise events open to anyone, anytime, anywhere
307
Efforts to Improve Eating Habits and Prevent Lifestyle-Related Diseases

| FY | Events | Contents | Number of participants |
| --- | --- | --- | --- |
| 2021 | Lifestyle seminar | A seminar on dietary techniques to improve work efficiency was held.  | 126 |
| 2021 |  Body Composition Measurement Session | Body composition measurement and advice by public health nurses | 260 |
| 2022 | Yakult Relay | In conjunction with the promotion of intestinal health, a message of gratitude was sent to department members and Yakult was passed on by baton. | 200 |
| 2023 | Veg-Check measurement session | Raise awareness of vegetable intake, confirm current status, and promote behavioral change | 1000 and more |
Sleep Initiatives

| FY | Contents | Number of participants |
| --- | --- | --- |
| 2021 | Acquire knowledge and skills to obtain good sleep | 68 |
Women's Health Initiatives

| FY | Events | Contents | Number of participants |
| --- | --- | --- | --- |
| 2020 | Women's Fest2020 |  Five events focused on women's health issues | 139 |
| 2021 | Working women's health video distribution | A three-part video on the theme of "working women's health" was released | Viewed 226 times |
| 2022 | Working Women's Health Seminar | Invited obstetrician-gynecologist Dr. Miho Takao to learn about health issues specific to women and promote behavioral change | 149 |
Case Report to External Parties
2022 Case Report at the Society for Occupational Health
"Introducing ABC screening for employees under 40 years of age during periodic health checkups"
2021 Spring and Autumn / 2022 Spring HR Conference Speaker
2023 Seminar hosted by Sankei Shimbun
Speaker at "Health Management and Well-Being*1 Management: The Intrinsic Value of Investing in People" with leading companies
External Evaluation of Health Management Initiatives
Maruha Nichiro Corporation has received the following external recognition for its health management initiatives.
Health Management Brand 2022
White 500: Excellent Corporation for Health Management 2022
Highest rank in the DBJ Health Management Rating
Sports Yell Company 2023
Tokyo Metropolitan Government Sports Promotion Company