Basic Approach
The Maruha Nichiro Group adopted its Health Management Declaration in March 2018 recognizing the importance of supporting the physical and mental health of all employees and that supporting employee efforts to maximize their individuality and abilities provides a positive contribution to the development of the Group.

The Group engages the Company, health insurance association, and employees in comprehensive health management activities based on the Group's corporate credo of "Loyal to our people, the most important asset of our company."

The Group contributes to society through its many business activities related to food and promoting healthy lifestyles for people around the world.
Medium-term Sustainability Management Plan (FY2018–2021)
Promote Healthy Management
Medium-term Goal

Be selected for Health and Productivity Management
Promote employee health
Action Plan

Strengthen health check follow-up measures
Strengthen mental health
Hold better health and cancer prevention seminars
Status of Employee Value (PDF: 221 KB/6 pages)
Dedicated Organization for Comprehensive Health Management
Maruha Nichiro Corporation established the Maruha Nichiro Health Management Office in 2014 dedicated to providing comprehensive health management. The office joins with the Maruha Nichiro health insurance association to offer various programs to support and improve the physical and mental health of employees.

The office has several successful programs led by industrial doctors and health nurses in prevention of illnesses from becoming more severe, prevention of lifestyle disease, treatment consultation, and health counseling.

The Company seeks to increase understanding of mental health issues among employees through in-house seminars led by clinical psychologists as well as by having managers provide counseling at the work sites and by supporting self-care.

The Group additionally maintains counseling offices with clinical psychologists at all of its business sites and a telephone counseling service available 24 hours a day throughout the year (excluding the New Year holidays and special holidays).

These physical and mental support programs for its employees have earned the Group selection as a White 500 Company in the large enterprise category of the Certified Health and Productivity Management Organization Recognition Program for two straight years in 2017 and 2018.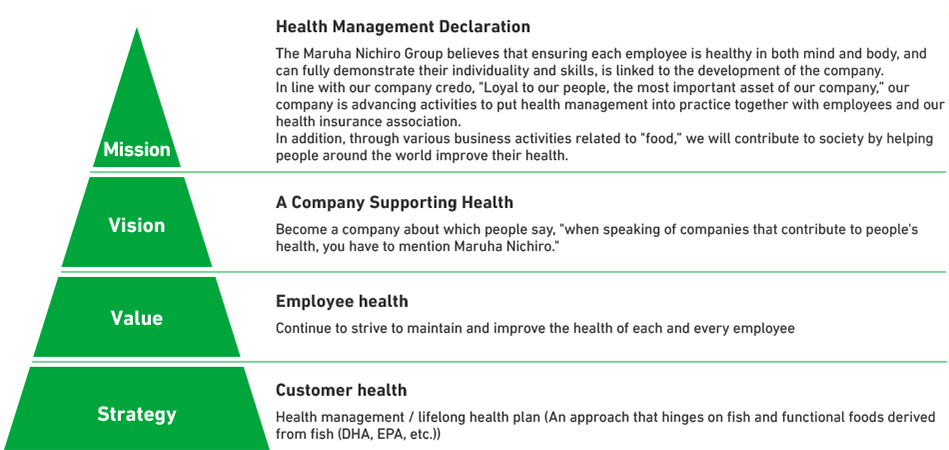 Highest DBJ Health Management Rating
The Development Bank of Japan (DBJ) recognized Maruha Nichiro's "exceptional efforts to support the health of employees" and granted the company a loan based on its health management assessment rating on September 30, 2019. The DBJ Employee Health Management Rated Loan Program is the world's first loan menu that grants special lending conditions for companies assessed to have superlative management of employee health and welfare. The DBJ commended the Company's disclosure of its Health Management Declaration, the transparency of its organizational structure, and the use of DHA to support and promote the health of its employees.