Basic Approach
Each and every employee's mental and physical health and the ability to maximize their individuality and abilities will lead to the sustainable growth of the Company. The Maruha Nichiro Group will promote activities to practice health management in cooperation with the Health Insurance Association and our employees.
Health Management Policy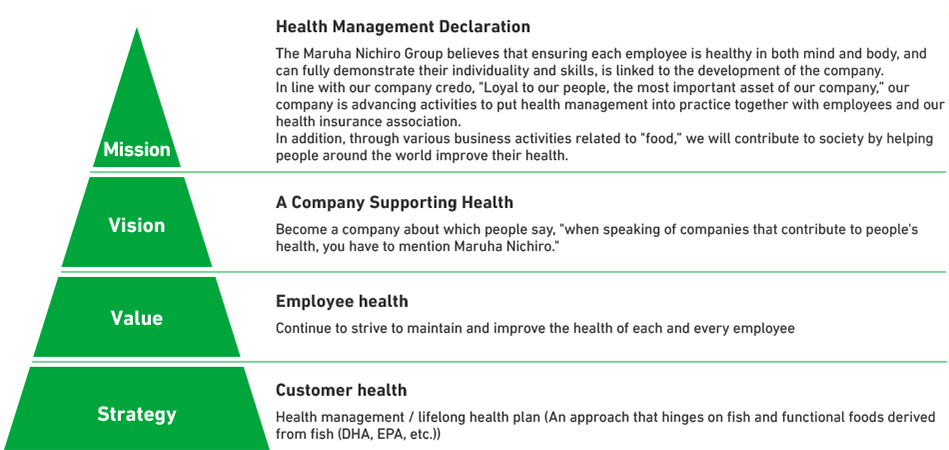 Medium-term Sustainability Management Plan (FY2018-2021)
Promote Health Management
Targets: Maruha Nichiro Corporation
Department in charge: Maruha Nichiro Corporation Personnel Department

Target
FY2021
Medium-term Management Plan Self-Assessment
Action Plan (Key measures)
Achievements

Promote employee health
Be selected for Health and Productivity Management

Achieve 100% health checkup participation rate and 90% stress checkup participation rate
Through the involvement of industrial physicians and consultation with public health nurses, we continue to care of those with high blood pressure, high blood sugar, and low liver function, and to continue efforts to reduce the number of employees who leave the company due to personal illness.
Conduct individual interviews with FY2021 new employees
Enhance health literacy through apps, intranet, and corporate events

Selected for Health and Productivity Management 2022 for the first time
Continued to receive the Certified Health and Productivity Management Organization White 500
Acquired the 2021 DBJ Health Management Rating by the Development Bank of Japan (highest rank)
Recognized as a Sports Yell Company 2021 (Japan Sports Agency)
Recognized as a Tokyo Sports Promotion Company 2021 (Tokyo Metropolitan Government)
Achieved 100% health checkup participation rate and 90% stress checkup participation rate
Implemented follow-up measures at workplaces where industrial physicians are not appointed. Proactively cared for hypertensive, hyperglycemic, and hepatically impaired patients to strengthen prevention of serious illnesses.
Conducted multiple health promotion corporate events in collaboration with health insurance companies to enhance collaborative health
Utilized health apps to raise employee health awareness

★★★★★

Achieved 100% health checkup participation rate and 90% stress checkup participation rate
Acquired the highest rank in the DBJ Health Management Rating by the Development Bank of Japan for the third consecutive year
Selected for Certified Health and Productivity Management Organization White 500 for the fourth consecutive year
Selected for Health and Productivity Management 2022
Health Issues and Goals
In this expert organization, Maruha Nichiro Corporation health issues are organized according to our health management framework, and goals are arranged as follows.
Health Management Framework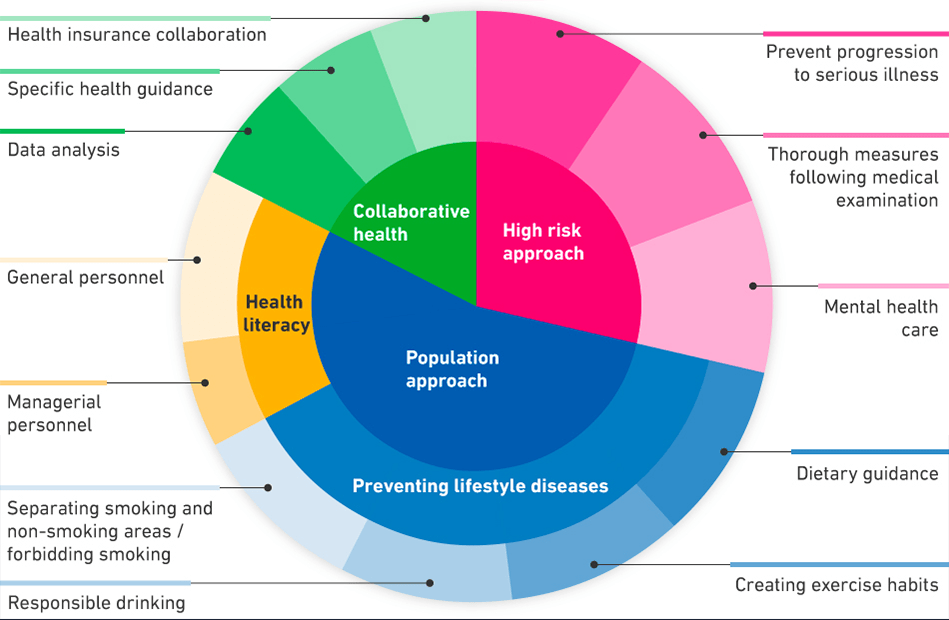 Target
1. High risk approach
-Achieve zero deaths from untreated patients requiring medical treatment and zero deaths from incumbency by providing thorough individual guidance
-Strengthen health check follow-up measures and achieve 70% secondary health checkup participation rate
2. Population approach
-Conduct seminars for employees to improve health literacy and foster health consciousness and prompt behavioral changes / Aim to achieve 70% or more willingness to change behavior among seminar participants
-Hold corporate events that incorporate food, sleep, and exercise as a series of activities, and aim for an achievement rate of at least 50% of employees' voluntary goals.
Management Structure
Maruha Nichiro Corporation has established an expert organization supervised by our Executive Officer and comprising the Maruha Nichiro Health Insurance Association, the Personnel Department, and the Maruha Nichiro Health management promotion office (industrial physicians, public health nurses, clinical psychologists, and nursing unit clerks), which holds a regular meeting once a month.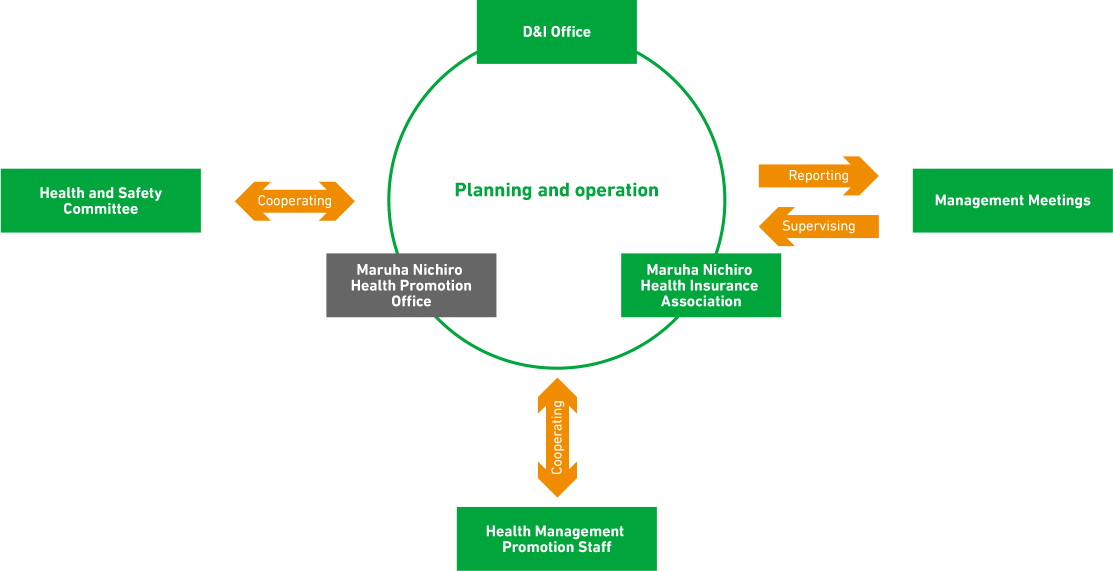 In addition, we explain the significance of activities and share case studies at Labor Manager Meeting and Health and Safety Committee, etc., in an attempt to promote health management throughout the entire Maruha Nichiro Group.
History of Maruha Nichiro health management
Main Initiatives in FY2021
Health Checks and Follow-up Measures
At Maruha Nichiro Corporation, we target a 100% uptake rate of employee health checks and we are working to improve results in follow-up after health checks by utilizing the individualized advice of public health nurses. As a result, we have been able to see improvement in various health indicators.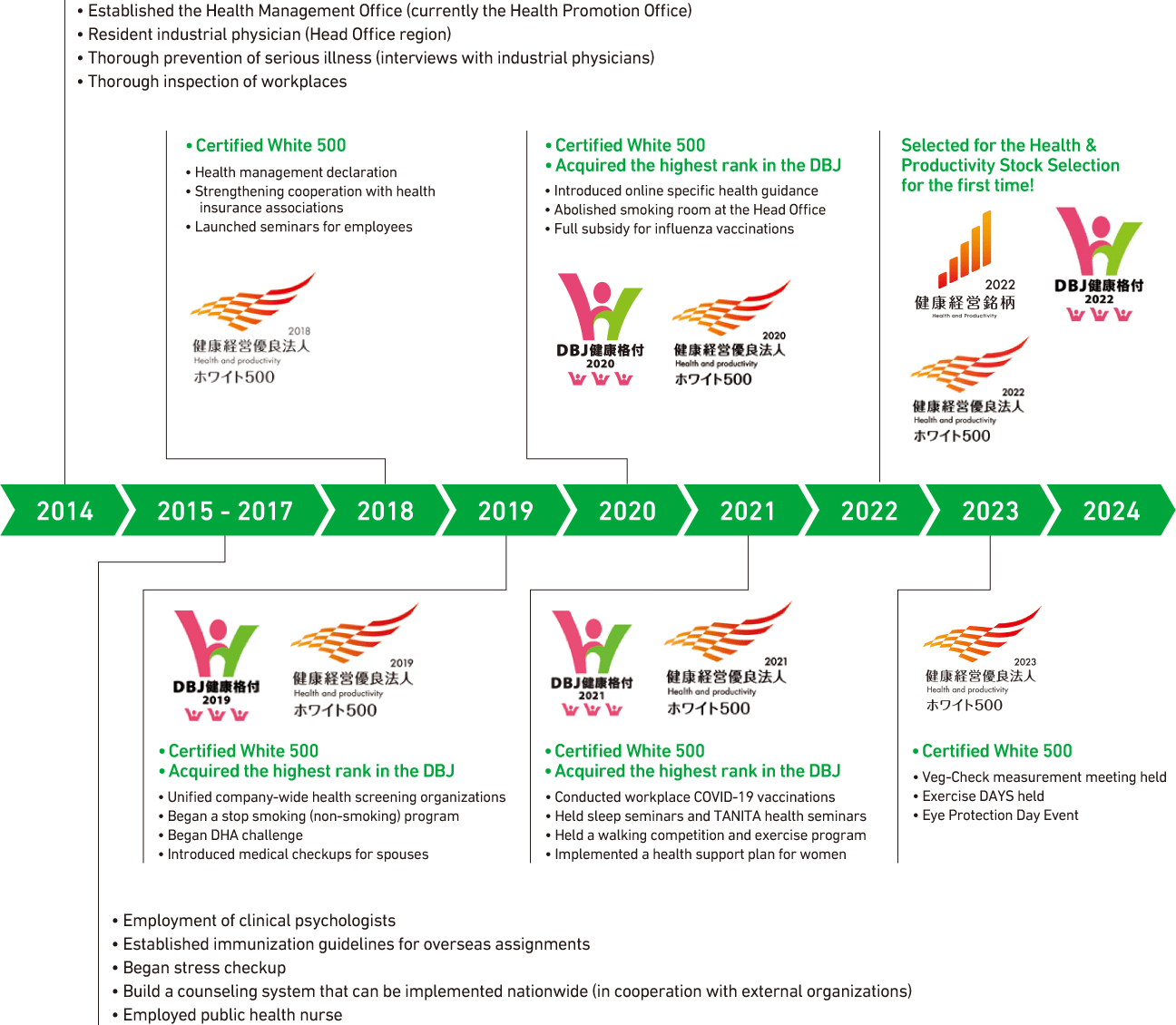 Implementation of Stress Checkup and Analysis
Stress Checkup Implementation Status
(%)

In line with stress checkups becoming compulsory in December 2015, Maruha Nichiro Corporation began conducting stress checkups at all of our work sites from FY2016.
Our target is to respond early to those with mental disorders or pre-morbidities and to improve the workplace environment. We will maintain an examination rate of 90% or higher and plan to strengthen workplace improvement follow-ups based on data analysis.
Introduce Company-wide Clinical Psychologist Interviews and 1-on-1 Meetings as Preventive Measures
Maruha Nichiro Corporation has promoted "Kokoroba," a name given to a service so that employees can feel free to consult with a clinical psychologist, etc., and is promoting its use within the Company. For new employees at particular risk of mental health issues, a clinical psychologist conducts individual interviews to acquire basic knowledge and preventive measures.
In FY2021, we conducted for all 50 new employees. We also introduced company-wide 1-on-1 meetings as part of our mental care. In part, to cultivate a corporate culture, the aim is for supervisors to be good interlocutors for their subordinates and to keep abreast of how their subordinates are doing from a comprehensive perspective, including their health. Furthermore, a mentoring system has been introduced on a trial basis to improve the quality of relationships, in other words, primary prevention.
Improving Employee Health Literacy
2020
At Maruha Nichiro Corporation, we work to promote employee health through various seminars that aim to improve employee health literacy. In FY2020, over the course of about one month, we held the following five events collectively referred to as "Woman's Fest" with a focus on illnesses unique to women with the goal of further promoting health management and stepping up our support for women's health.
(1) Introduction of health support app for women
(2) Exercise lessons streamed online
(3) Roundtable discussion by public health nurses and clinical psychologists
(4) Equol seminar
(5) Bone density measurements

A total of 140 male and female employees participated with the event formats tailored to the COVID-19 pandemic. In a survey conducted after the events, over half of the participants reported that they had deepened their knowledge of women's health issues, communicated with public health nurse and clinical psychologist, and increased their awareness toward improving their diet. As a result, more than 90% of participants responded that they would like to participate again in the future.
2021
We held seminars on good quality sleep and health support corporate events to promote exercise. Since it was also an Olympic year and Maruha Nichiro is a seafood and food supplier, we named it "Uo-kinpikku ." Given that this was a D&I Office activity, we took into consideration not only the typical walking race but also various daily activities such as cleaning, cooking, nursing, playing with children, radio exercises, etc., and converted them into exercise values (METS) so that as many people as possible could participate in the program.
As one of the "Uo-kinpikku" corporate events, a corporate exercise event utilizing the health app was held and videos were streamed. A questionnaire conducted after the event and streaming showed a change in awareness that led to a change in behavior.
-Muscle strength and core training (video stream)
A training video that builds muscle strength and core strength, which are essential to maintain athletic function.
Maruha Nichiro also devised the "Crab Walking Squat" as a Maruha Nichiro original, which also incorporated elements of hepatitis exercises.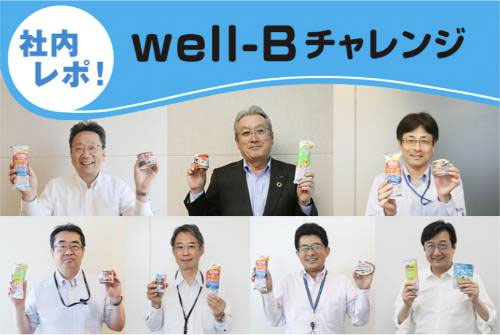 -Employee response
Do you perform muscle training (training with muscle awareness) routinely?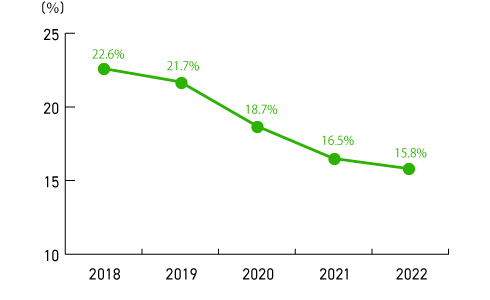 Do you plan to incorporate muscle training (training with muscle awareness) into your daily routine in the future?
-Balance ball chair
We have introduced balance ball chairs in some of our offices.
In addition, to lower the percentage of employees who smoke, in 2019 we launched a Smoking Cessation Program that provides free support to employees utilizing online interviews and an app to help them quit smoking. As a result, the smoking rate among employees has declined.
Furthermore, using a health promotion app, we are encouraging employees to exercise through regular streaming of instructional videos. This initiative has resulted in increased exercise among employees in FY2020.
Trends in employee smoking rate
(%)
Trends in exercising at least 30 minutes
(%)
Since March 1 to March 8 is "Women's Health Week" designated by the Ministry of Health, Labour and Welfare, we released a video on "working women's health" under the theme of "health of working women." It targets all employees, not only women but also men with significant partners and families, and managers with subordinates.
We strive to create a workplace where as many employees as possible can fully demonstrate their performance by deepening their understanding of health issues. In addition, we have decided to keep sanitary goods always available in the Health Management Promotion Office at the head office, and have launched a guide for employees who are in need of urgent care.
2022
-New employee training
To provide new employees with opportunities to deepen their understanding of D&I and health management, and to cultivate a corporate culture throughout the Company, including the generation that will lead the future, the meaning of "diversity and inclusion" and its position in the Company, the meaning of "health management" in accordance with the concept of D&I, and the actual initiatives being undertaken at the Company are introduced.
-COCOKARA relax
We strive to build a working environment that enables the employees to be active with peace of mind and to achieve a balance between appropriate tension and relaxation in order for them to be able to demonstrate their individuality and strengths.
Therefore, from FY2022, we have been conducting exercises using "san" to address coworkers, recommending office casual wear, and installing seating using balance balls.
Efforts to Promote Health Management Using Our Products
The Maruha Nichiro Group is working to promote employee health through the utilization of in-house products developed and offered by the Group that support the maintenance and improvement of the health of our customers.
The "DHA Challenge," which was held for the third consecutive year from FY2019, has become a central plan for the Company's health management, with a total of more than 400 people consuming the Company's DHA-containing products and many participants in all of the events showed improvement in their triglyceride levels.
We were able to confirm a certain level of success in improving triglyceride levels over the three years. In addition, because health issues are not limited to triglycerides, but are also unique to each individual, and exercise, not just food alone, is essential to achieve good health, in FY2022, we will hold the "well-B Challenge 2022" as a new initiative to "DHA Challenge".
Through these activities, we aim to boost wellness by strengthening the health of the individual through understanding their own health condition in preparation for the health checkup and by practicing a well-balanced diet and exercise habits, thereby helping each individual to be in good mental, physical, and social condition (well-being).
External Recognition of Our Activities toward Health Management
Selected for Health and Productivity Management 2022 and Outstanding Health and Productivity Management Organization (White 500)
Maruha Nichiro Corporation established the Maruha Nichiro Health Management Promotion Office in 2014 as an expert organization dedicated to providing comprehensive health management. The Office joins with the Maruha Nichiro Health Insurance Association and is promoting activities to maintain and improve the physical and mental health of employees.
We seek to improve employee literacy by having industrial physicians and public health nurses play a central role in providing health guidance, and by holding internal training sessions on mental health care led by a clinical psychologist. As a result of these activities, the Company has been recognized by the Minister of Economy, Trade and Industry as an "Outstanding Health and Productivity Management Organization (White 500)" for the fifth consecutive year since 2018.
VOICE
Mari Saito
Section Chief Diversity and Inclusion Office Personnel Department
As stated in the Company Credo, "People: Loyal to our people, the most important asset of our company," we place the "physical and mental health" of our employees at the forefront of our health management efforts. We are pleased to announce that we have been selected for the first time for "the Health & Productivity Stock Selection." We realize that our efforts to date have borne fruit, and we truly appreciate it. While times are changing rapidly, we will continue to promote our health management initiatives by standing by our employees and receiving opinions and advice from our occupational health staff, so that we do not just put up idealistic ideas. We would like to enhance our enterprise value by pursuing the realization of a figure in which all employees play an active role.
Acquisition of Highest DBJ Health Management Rating
In October 2021, the Development Bank of Japan (DBJ) recognized Maruha Nichiro Corporation as a company making "exceptional efforts to support the health of employees" and granted the company a loan based on its health management assessment rating.
The DBJ Employee Health Management Rated Loan Program is the world's first financing menu that grants special lending conditions for companies assessed and selected for having outstanding management of employee health and welfare.
The Company has been awarded the highest level of rating for three consecutive years, in recognition of its public announcement of the "Health Management Declaration," defined organizational structure, and measures to maintain and promote the health of its employees through the use of DHA.
Recognized as a "Sports Yell Company 2022" by the Japan Sports Agency
Maruha Nichiro was recognized by the Sports Agency for the following activities and was certified for the second time in succession from 2021.
Uo-ku (walk) and Aim for the Gold! Uo-kinpikku 2021" Organized
Hold online programs by exercise trainers and streaming of videos
Streaming of training videos created and performed by employees, "Anytime☆Anywhere! Let's Nara-train"
Recognized as a Tokyo Metropolitan Government Sports Promotion Company in 2021
As a company, we were recognized by the Tokyo Metropolitan Government as a Tokyo Sports Promotion Company for our outstanding efforts to promote sports activities by our employees and our support in the field of sports.
In FY2021, the Company was recognized for its efforts in holding a walking competition corporate event and streaming of exercise videos, sponsorship of the Yokohama DeNA BayStars professional baseball team and providing opportunities for employees to watch the game, and sponsorship of the Japan Surfing Federation.
Looking Ahead
We will continue to practice "health management" based on our Company Credo of "Loyal to our people, the most important asset of our company," as stated in the Maruha Nichiro Group "Health Management Declaration," by ensuring that each and every employee is healthy in mind and body, and by maximizing their individuality and abilities for the development of the Company.
Furthermore, through various business activities related to food, we will contribute to society by contributing to the health of people around the world.