Basic Approach
At the Maruha Nichiro Group, we are aware that our business is made possible by the bountiful blessings of nature. We promote various initiatives to build a business model that will allow us to co-exist in harmony with the global environment.

Established in March 2018, our Medium to Long-term Sustainability Management Plan sets forth the three main objectives of combatting climate change, building a recycling-oriented society, and conserving marine resources.
Environmental Policy
Our Environment Policy is comprised of the Basic Policy and Principles below. We thoroughly familiarize all our employees with the policy through our website and Intranet, employee training, and other activities as we strive to implement environmental management.
Basic Policy
The Maruha Nichiro Group will work to reduce the environmental impact of our global business activities and strive to create a sustainable society in order to contribute to the enrichment of people's lives and their happiness.
Principles
We will use sustainable resources effectively and work to minimize our environmental impact and mitigate climate change.
We will actively engage in environmental conservation efforts, taking biodiversity into consideration.
We will provide environmentally friendly products and services.
We will implement our environmental management system effectively and work on continuous improvements to boost our environmental performance.
We will observe environmental laws and regulations.
We will disclose company information related to environmental management as appropriate and work on our communication with society.
Management Structure
Environmental Management Structure at the Maruha Nichiro Group
In fiscal 2018, the Maruha Nichiro Group established a new Sustainability Promotion Committee. This committee puts together the general plans for the Group's environmental management, establishes goals, and evaluates the activities of group companies. It also assigns environmental officers and environmental managers at group companies who work on environmental activities tailored to the characteristics of each company's business.
Maruha Nichiro Group Environmental Management Structure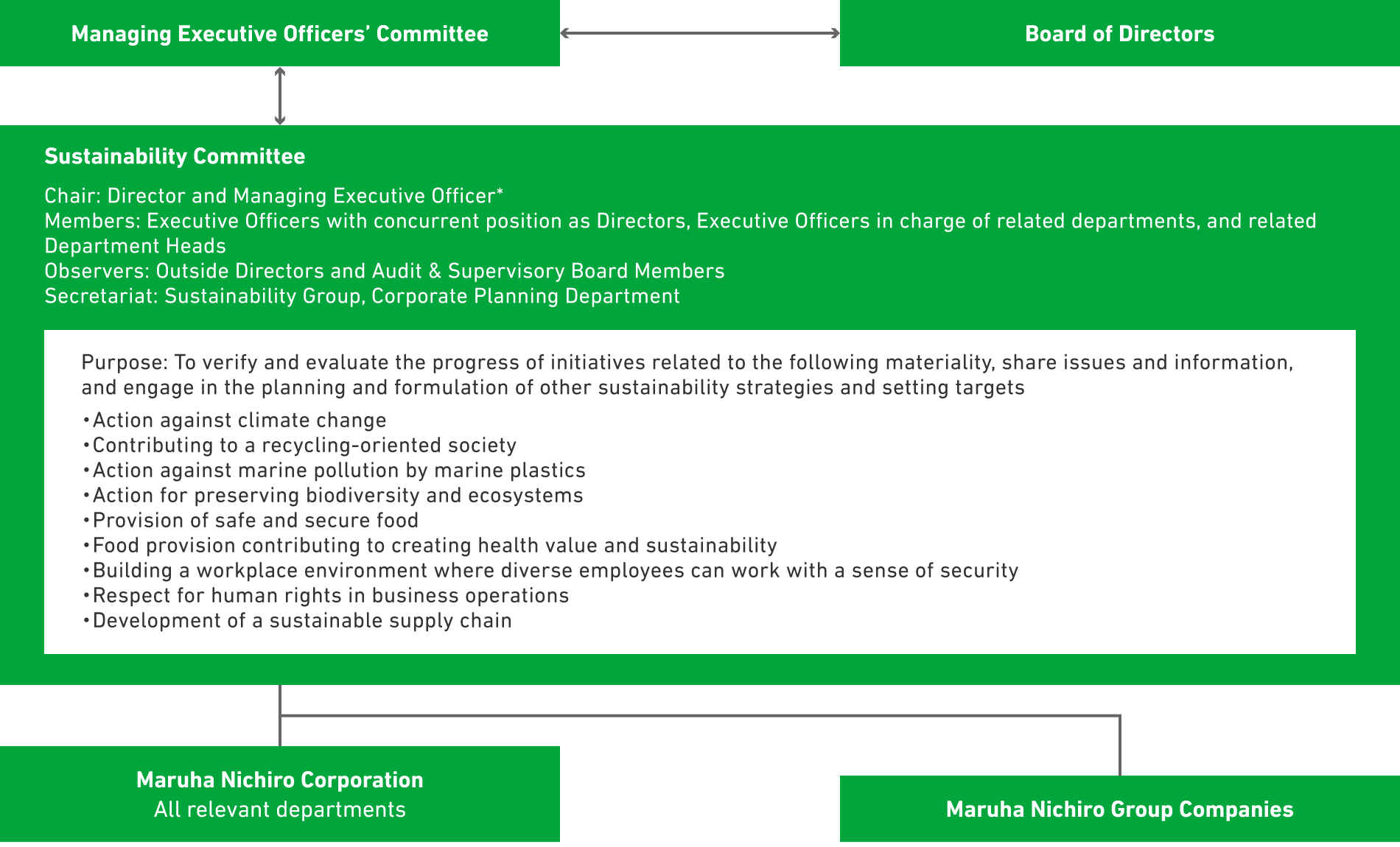 Management Situation
ISO 14001 Certification Status
The Maruha Nichiro Group has obtained ISO 14001 certification, the international standard for environmental management systems, at our production factories in Japan and other countries. As of April 2019, we have obtained this certification at eight companies.
Maruha Nichiro Group Companies with ISO 14001 Certification (as of April 1, 2019)

| Company name | Workplaces |
| --- | --- |
| Zhejiang Industrial Group Co., Ltd. | - |
| Southeast Asian Packaging & Canning Ltd. | - |
| Maruha Nichiro Corporation | Head Office (Production Management Department), Foods & Fine Chemicals Department (Mori, Utsunomiya), Yu-bari Plant, Shin-Ishinomaki Plant, Oh-e Plant, Shirataka Plant, Gunma Plant, Utsunomiya Plant, Hiroshima Plant, Shimonoseki Plant |
| Maruha Nichiro Yamagata Co., Ltd. | - |
| Maruha Nichiro Kyushu, Inc. | - |
| Nichiro Chikusan Co., Ltd. | Head Office, Sapporo Plant, Nayoro Plant, Tokachi Plant, Hassamu Distribution Center |
| Yayoi Sunfoods Co., Ltd. | Production Division, Shimizu Plant, Kyushu Plant, Nagaoka Plant, Kesennuma-Matsukawa Plant |
| Maruha Nichiro Kitanippon, Inc. | Production Management Department, Furano Plant, Kushiro Plant, Mori Plant, Aomori Plant |
Environmental Audits
At the Maruha Nichiro Group, our Corporate Planning Department has been conducting environmental audits at our companies in Japan since fiscal 2016 to check the status of compliance with environmental laws and ordinances at each company in more detail. In fiscal 2018, these audits were conducted at 33 locations.
Environmental Education
At the Maruha Nichiro Group, we emphasize training and internal education to raise the environmental awareness of each of our employees and promote proactive engagement.

We hold regular briefings for our employees to educate them about environmental laws and ordinances. In fiscal 2018 and 2019, we held a legal briefing for those in charge of waste disposal within the Group.
Number of Participants in Fiscal 2018 Environmental Briefings
Briefing on Waste Disposal Law (Basics)—76
Briefing on Waste Disposal Law (Application)—40
Briefing on Waste Disposal Law (On-site Confirmation)—20