Basic Approach
The Maruha Nichiro Group has a history rooted in the sea and spanning over 140 years. Precious natural resources and the natural life force of the sea have supported our growth.
With the increase in the world's population and the economic development of emerging countries, the demand for fish consumption is expected to increase in the future. In order to meet demands and protect marine resources, we will continue to contribute to the creation of a sustainable global environment and society through our business activities.
Medium-term Sustainability Management Plan (FY2018-2021)
Promote Sustainable Use of Marine Resources
Targets: Maruha Nichiro Group (Domestic)
Department in charge: Corporate Planning Department, Maruha Nichiro Corporation

Target
FY2021
Medium-term Management Plan Self-evaluation
Action Plan (Key measures)
Achievements
Promote certification acquisition for sustainable fisheries and aquaculture

Expand sales of eco-label products such as MSC/ASC*1,2 and continue product development

MSC, ASC and other ecolabeled products decreased by 1,195 tons (down 938 tons from FY2020) and 3 tons (down 16 tons from FY2020), respectively

★★★☆☆

Promoted handling of sustainable certified seafood products throughout the entire Group
Conducted and disclosed results of marine resources surveys
Ongoing Group-wide efforts are a challenge

Strengthen efforts to abolish illegal, unreported, and unregulated fishing (IUU)

Promote the activities of the task force within SeaBOS(https://www.maruha-nichiro.com/sustainability/stakeholder_engagement/seabos.html)

Promoted activities of the task force within SeaBOS (confirmed and publicized the absence of IUU fishing products and any form of modern slavery including forced, bonded and child labor in the supply chain)

Expand egg-to-harvest business

Plans to limit egg-to-harvest bluefin tuna production, taking into account deteriorating business profitability and the production volume required for technological transfer and innovation for the future (11,000 fish planned)

Shipped 12,400 egg-to-harvest bluefin tuna

Promote eco-friendly farming technology

Carry out egg-to-harvest*3 and seedling production of greater amberjack

Carried out offshore release of egg-to-harvest and seedling production of greater amberjack
*1 MSC certification: A certification system for natural seafood products operated by the MSC (Marine Stewardship Council). It certifies that a fishery is environmentally friendly and sustainable.
*2 ASC certification: A certification system for aquaculture operated by the ASC (Aquaculture Stewardship Council). It proves that seafood products have been certified as produced by a responsible environmentally and human-friendly aquaculture company.
*3 Egg-to-harvest aquaculture: Artificially incubated fish eggs are raised to become parent fish whose fertilized eggs are collected to raise into adult fish.
Main Activities in FY2021
Conducting Marine Resources Surveys
In order to conserve marine resources and practice sustainable procurement, the Maruha Nichiro Group conducts surveys to evaluate the volume of marine products handled under the current situation and the resource status of natural marine products for the products and raw materials of each Group Company in FY2020.
Implementation of Maruha Nichiro Group's Marine Resources Survey (PDF: 5.46 MB/7 page)
The evaluation results of the resource status of wild seafood products showed that of the approximately 1.41 million tons of seafood handled, approximately 820,000 tons were caught in fisheries certified as sustainable, accounting for the majority (59%) of the entire wild seafood. While recognizing that these are our Group's strength, it is an ongoing challenge to promote the handling of these seafood products.
The second marine resources survey is planned to be implemented in FY2022, with the results to be published in 2023. In order to achieve one of the KPIs of the Medium-term Management Plan, "100% confirmation of the resource status of seafood products handled by the entire Group by FY2030," it is necessary to make clear the 250,000 tons of "insufficient data" from the previous survey, starting with those for which it is possible. To achieve the target, we continue to take action towards periodic surveys and the resolution of issues.
Enhancing Access to the North American Alaska Pollock Resources
To further enhance our ability to procure sustainable marine products, in January 2022, the Maruha Nichiro Group acquired an Alaska pollock processing facility and nine fishing vessels from Icicle Seafoods Inc. of the United States, further strengthening our access to pollock resources in North America's Bering Sea.
Rights to wild marine resources, such as fishing quotas, are limited worldwide, and new acquisitions can be quite difficult. Through the addition of this access share, we will be strengthening our access to Alaska pollock, a plentiful and sustainable fish species, in the large waters that is the Bering Sea. In addition to capturing approximately 27% of the whole general quota share (the quota share generally available to companies, excluding the quota given to natives) in the Bering Sea Alaska pollock quota, and assuming the time of the first marine resources survey as of 2019, this would equate to an increase in certified sustainable fisheries from approximately 820,000 tons to approximately 880,000 tons.
In addition, compared to other proteins, it has been reported that Alaska pollock is a climate-friendly protein. As a sustainable protein, global demand is strong from the standpoint of population growth and health consciousness, but it will be possible to cater more to general consumers in various forms such as fillets and surimi.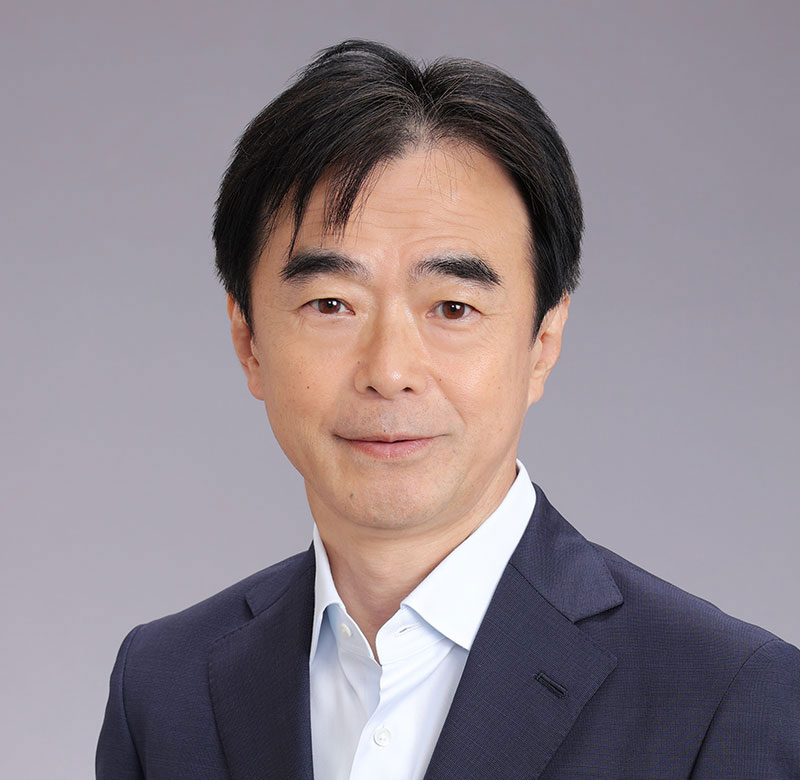 Use of Seafood Products Obtained through Sustainable Fishery/Aquaculture Certificates (MSC/ASC)
The Maruha Nichiro Group actively promotes the handling of MSC/ASC-certified seafood products.
As of April 2022, Maruha Nichiro Corporation has handled 1,195 tons of consumer frozen foods bearing the MSC Marine Eco-Label in FY2021, which was less than the 2,133 tons in FY2020. The amount of foods bearing the ASC label handled in 2021 (period between January 1 and December 31) was approx. 3 tons, which significantly decreased from approx. 19 tons in 2020. The main reasons for this are thought to be the drastic downturn in the demand for prepared foods used in lunch bento boxes due to the COVID-19 pandemic, as well as the impact of soaring prices of raw materials.
Trend in Volume of Frozen Foods for Household Use Bearing the MSC Label
(t)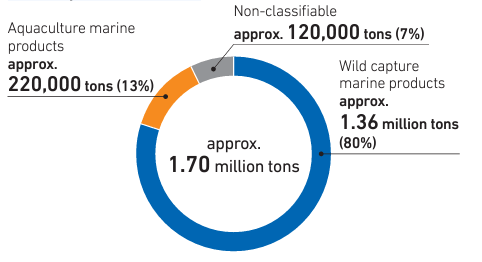 Trend in Volume of Processed Foods for Household Use Bearing the ASC Label
(t)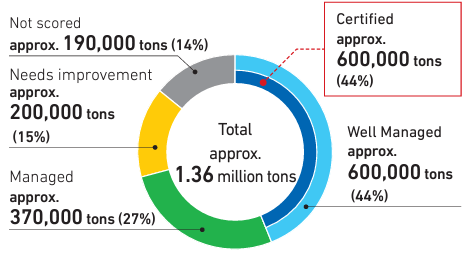 Activities for Obtaining Sustainable Aquaculture Certification (ASC Certification) for Greater Amberjack and Yellowtail
Maruha Nichiro Corporation AQUA Kunezu fishery (formerly Amami Yougyo Inc.) became the first company in the world to receive ASC certification for greater amberjack aquaculture in July 2019. Full-scale shipments began in May 2020, with approximately 23 tons of ASC-certified products shipped in FY2020 and approximately 28 tons in FY2021. Maruha Nichiro Corporation AQUA Kamiura Fishing Grounds (formerly Aquafarm Co., Ltd.) obtained ASC certification for yellowtail aquaculture, and shipped approximately 25 tons of ASC yellowtail in FY2020 and 95 tons in FY2021. We will continue to deliver to customers through an integrated value chain that encompasses catch, live transport, fillet processing at specified plants contracted by Maruha Nichiro, and sale through mass retailers.
*On Friday, April 1, 2022, the six Group Companies engaged in the aquaculture operations were merged into two companies, Maruha Nichiro AQUA Co., Ltd. and Maruha Nichiro Marine Co., Ltd. Maruha Nichiro AQUA (Head Office: Kagoshima City, Kagoshima Prefecture) integrated four companies in the Kyushu region, Sakurajima Yougyo Co., Ltd., Amami Yougyo Inc., Aquafarm Co., Ltd., and Genkai Co., Ltd. while Maruha Nichiro Marine Co., Ltd. (Head Office in Kushimoto, Wakayama Prefecture) integrated two companies in the Kishu region, Kushimoto Marinefarm Co., Ltd. and Kumano Yougyo.
Activities Related to Sustainable Aquaculture Operations
Case Study: Production of Egg-to-harvest Bluefin Tuna
Maruha Nichiro is a pioneer of egg-to-harvest bluefin tuna production. One of Maruha Nichiro's Group Companies, Aquafarm Co., Ltd., officially began shipping from its aquaculture farm specializing in artificial cultivation of bluefin tuna in FY2019, and shipped 570 tons in FY2021. In order to strive for further production efficiency, we will temporarily reduce our annual shipping amount and further focus on the development of production technology.
Amount of Egg-to-harvest Bluefin Tuna Shipped
(t)
Case Study: Focus on the Development of Egg-to-harvest Technology
We work with the National Research and Development Agency's Fisheries Research and Education Agency (located in the city of Yokohama, Kanagawa Prefecture, hereinafter, "FRA") to develop basic and applied technologies for breeding improvement of egg-to-harvest bluefin tuna.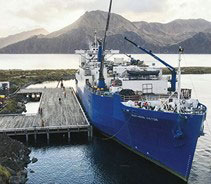 As for yellowtail, we began shipping artificially hatched yellowtail in FY2020, and plan to start selling egg-to-harvest yellowtail in FY2022. In the future, we will continue to focus on the development of egg-to-harvest technology in contributing to the sustainable use of marine resources.
Case Study: Feed Development to Reduce the Use of Fish Meal in Fish Feed
Maruha Nichiro's Central Research Institute is undertaking efforts, including the development of feed to reduce the use of fish meal in fish feed, as part of its activities to preserve marine resources. We are conducting research and development on feed that effectively utilizes plant proteins and feed focused on insect meal, and are conducting fish feeding tests by manufacturing test feed using an extruder granulator owned by the Central Research Institute.
Case Study: Demonstration Test for Inland Cherry Salmon Aquaculture
Demonstration tests of inland cherry salmon aquaculture are a joint research project by Company's Central Research Laboratory and the Fisheries Research and Education Organization, aiming to "develop a next-generation closed-loop land-based aquaculture system that integrates innovative technologies and creation of the highest quality brand of Japanese national species of cherry salmon." Following the completion of the demonstration test at the end of March 2021, we are proceeding to the next step of research for commercialization necessary for closed-loop land-based rearing of cherry salmon, utilizing the knowledge gained from the test results for technological development in terms of both tangible aspects, such as water tanks, temperature control, and filtration methods, and intangible aspects, such as feeding management and improvement of fish quality.
In June 2021, inland cherry salmon aquaculture were landed at a test site under the jurisdiction of the Maruha Nichiro's Central Research Institute in Yuzamachi, Yamagata Prefecture. These were shipped to restaurants in Tokyo and Sakata City, Yamagata Prefecture. The 20 larger fish were transferred to a training tank as parent fish responsible for the next cycle of fish farming.
In order to cultivate seedlings suited for land-based aquaculture, selective breeding is conducted using genetic information, and the growth rate has been improving year by year. In the current fiscal year as well, we are expanding our breeding facilities and conducting high-density feed testing and other technological developments that can be utilized for large-scale commercialization.
Although the joint project has come to an end, Maruha Nichiro will continue working with Yusa Town, Yamagata Prefecture, and other related organizations to conduct tests and research on land-based cultivation of cherry salmon.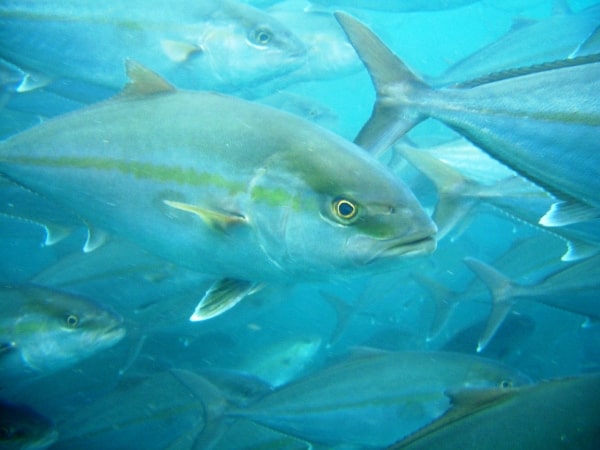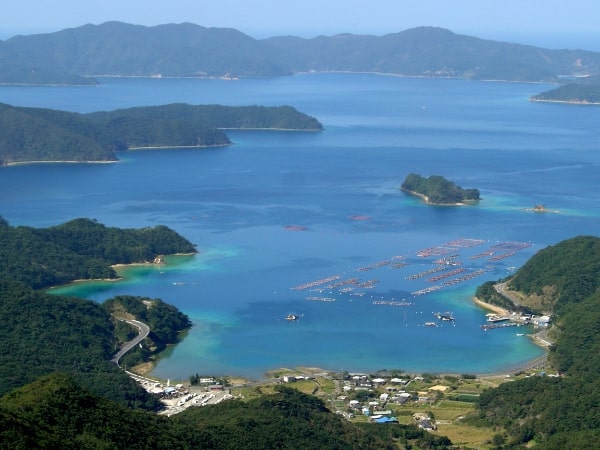 Case Study: Sakurajima Yougyo Introduces An Automatic Live Fish Counting System Using AI-based Image Processing Technology
We have worked with an outside contractor to develop an automatic live fish counting system using AI-based image processing technology. The system began operation in April 2020 at Maruha Nichiro AQUA Co., Ltd. (formerly Sakurajima Yougyo Co., Ltd.), a Group Company that conducts aquaculture of yellowtail and greater amberjack. Currently, it is being used in actual business activities at all Maruha Nichiro AQUA fishing areas of Sakurajima business sites, AQUA office Kamiura fishery, AQUA office Shimaura fishery, and at Maruha Nichiro's Aquaculture Technology Development Center. (As of April 2022)
By automating the counting of farmed fish on board offshore vessels, which used to be done manually, the system reduces the labor of employees who used to count fish visually all day long at sea, and improves efficiency by reducing human error. Not only is this employee-friendly and efficient, but it is also expected to reduce the risk of marine pollution by optimizing the amount of bait. In addition, when it first began operations, it was used only with parent yellowtail/greater amberjack, but it is currently also used with juvenile yellowtail/greater amberjack. We will continue to strive to expand the number of units introduced.
Other Activities
Case Study: Corporate Version of Furusato Tax Payment Supports Oita Prefecture's Regional Development Project "Strengthening Resource Management of the Seafood Industry and Making a Growth Industry"
Maruha Nichiro endorsed one of Oita Prefecture's regional development projects, "Strengthening Resource Management of the Seafood Industry and Making a Growth Industry," and donated 10 million yen to Oita Prefecture at the end of March 2022 through the "Corporate Version of Furusato Tax Payment" system. Oita Prefecture's corporate version of Furusato tax payment will be used for activities such as building an effective and stable aquaculture production system through measures against red tide and epidemic disease, and promoting recovery of an extensive migratory resources and promoting systematic aquaculture business under a new resource management system, as part of Oita Prefecture's efforts to "Strengthening Resource Management of the Seafood Industry and Making a Growth Industry", a regional development policy. For Maruha Nichiro, which operates aquaculture operations in Oita Prefecture, environmental preservation in Oita Prefecture is our responsibility, and we decided to make this donation because we sympathize with the activities of Oita Prefecture. Maruha Nichiro will continue to promote activities that contribute to local development and regional communities as part of its sustainability activities that contribute to the enhancement of environmental and social value.
Case Study: Joint Research Aimed at Establishing Fish Cell Culture Technology
Maruha Nichiro Corporation is promoting joint R&D with IntegriCulture Inc. ("IntegriCulture"), a cell culture startup, and Ichimasa Kamaboko Co. Ltd. ("Ichimasa Kamaboko"), which boasts the top share in the fish paste industry, with the aim of establishing a technology to culture fish muscle cells.
Since August 2021, Maruha Nichiro Corporation has been conducting this research in a two-company collaboration with IntegriCulture. IntegricCulture is an innovative start-up company that develops technologies to lower the cost of culture and increase the scale of cell culture toward the realization of a world where cell agriculture (cell culture) is widespread. The company's own food-grade culture medium and general-purpose large-scale cell culture system, the "CulNet System™," have been confirmed to be effective in cattle and poultry cells, and in this study, Maruha Nichiro Corporation has provided the live fish cells necessary for the verification. Since August 2022, Ichimasa Kamaboko has joined this research and the three companies are working together to develop a large-scale commercial production of cultured fish meat for processed seafood products.
Through these activities, the Company aims to offer food products made with cell culture technology at a price range accessible to consumers, thereby realizing commercial production at the fastest pace in the world and providing sustainable next-generation fish protein in the future.
Attending the Review Meeting on Optimization System for Seafood Trade as a Committee Member
As world demand for seafood products increases, it is said that in order to make the Japanese fishing industry a growth industry, it is necessary to establish a distribution framework for exports that is competitive in terms of both quality and cost.
Therefore, in order for Japan, as a major importer of marine products, to fulfill its international responsibilities in terms of thorough resource management, eradication of illegal, unreported, and unregulated (IUU) fishing, and promotion of exports, a legal system for catch certification, which is the starting point for traceability introduced in Europe, the United States, and other countries, is being developed.
As a committee member, Maruha Nichiro attended the "Investigative Commission on Catch Certification Systems" held from September 2019 to June 2020, followed by the "Review Meeting on Optimization System for Seafood Trade" held from May 2021 to August 2021, and participated in discussions on the details of the system, including the criteria and target species of specified Class I and Class II aquatic animal and plant, etc. The "Act on Ensuring the Proper Domestic Distribution and Importation of Specified Aquatic Animals and Plants" will be enforced in December 2022, and in light of the purpose of this system, which is to prevent the distribution of illegally harvested marine animals and plants, we will strongly promote the proper operation of this system and the establishment of a sustainable seafood products distribution system throughout the Maruha Nichiro Group's supply chain.
KGIs and KPIs from FY2022 to FY2030
In line with formulating the new Medium-term Management Strategy "For the Ocean, for Life MNV 2024," we reevaluated the new nine key issues (materiality) on March 28, 2022 and formulated Ideal State in 2030 (KGI) for each materiality and Achievement Targets (KPI). Starting in FY2022, we will work on the targets we have formulated, aiming to achieve our Ideal State in 2030.
Materiality

Action for preserving biodiversity and ecosystem
Ideal State in 2030 (KGI)

Confirm that there is no risk of resource depletion in the fish stocks we handle
Achievement Targets (KPI)

| KPIs | Target value | Target year |
| --- | --- | --- |
| Resource status confirmation rate of handled seafood products (Overall G) | 100% | 2030 |
| Biodiversity risk assessment conducted (Domestic G) | - | 2024 |
| Implementation of certification level management of aquaculture farms (Domestic G) | - | 2024 |
Main SDGs to which we contribute