Basic Approach
The Maruha Nichiro Group has a history rooted in the sea and spanning over 130 years. Precious natural resources and the natural life force of the sea have supported our growth. We will contribute to a sustainable global environment and society through our business activities to ensure our continued growth.
Medium-term Sustainability Management Plan (FY2018–2021)
Promote Sustainable Use of Fishery Resources
Medium-term Goal

Promote certification acquisition for sustainable fishing and farming
Strengthen efforts to abolish illegal, unreported, and unregulated fishing (IUU)
Expand egg-to-harvest business
Promote eco-friendly farming technology
Action Plan

Promote the use of marine products obtained through sustainable fishing/aquafarming certificates (MSC/ASC)
Promote acquisition of sustainable aquafarming certificates
Implement a stricter verifications of imported fishery product traceability
Promote dialogue in Japan and abroad
Increase production of egg-to-harvest bluefin tuna
Strengthen R&D systems for aquafarming technologies
Status of Environmental Value (PDF: 244 KB/5 pages)
Increased Production of Egg-to-harvest Bluefin Tuna
Aquafarm Co., Ltd. (Oita, Japan), an aquaculture farm specializing in artificial cultivation of bluefin tuna, reached full-fledged operation and shipments in fiscal 2019. The company increased its production volume from 409 tons in fiscal 2018 to 608 tons in fiscal 2019.
Trend in Egg-to-harvest Bluefin Tuna Shipment Volume
(t)
Egg-to-harvest Bluefin Tuna and First Shipment to Europe
In fiscal 2018, the Maruha Nichiro Group acquired Hazard Analysis Critical Control Point (HACCP) certification, which is required for exporting to the EU, at our aquaculture farms and processing plants. Our first shipment of egg-to-harvest bluefin tuna to the UK was made in February 2019. We are expanding shipments of egg-to-harvest bluefin tuna in response to growing overseas demand. This is a result of the lifting of tariffs on exports to the EU in conjunction with the Agreement between the European Union and Japan for an Economic Partnership on top of European exports becoming possible after previous concern over parasites.
Results: Increase in Volume of MSC Marine Eco-Label Products Handled
The Maruha Nichiro Group actively promotes the handling of MSC/ASC-certified marine products. The volume of frozen foods for household cooking bearing the MSC marine eco-label we handled in fiscal 2018 was 2,430 tons, a substantial increase over the 820 tons handled in fiscal 2017. The volume of products bearing the ASC logo that we handled was 70 tons (from January 1 to December 31, 2018), but we will increase this volume going forward.
Trend in Volume of Frozen Foods for Household Cooking Bearing MSC Marine Eco-Label
(t)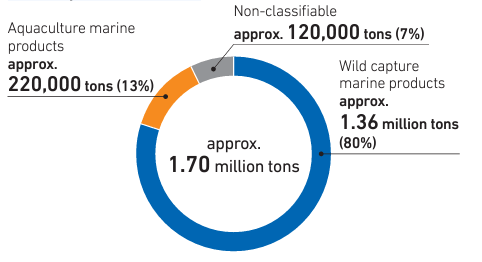 Case Study: ASC Aquaculture Farm Certification Obtained for Yellowtail and Great Amberjack Aquaculture Farms
In April 2018, Aquafarm Co., Ltd. obtained ASC Aquaculture Farm Certification for its yellowtail farm. In July 2019, Amami Yogyo Inc. (Kagoshima, Japan) obtained the certification for its great amberjack farm, making it the world's first great amberjack farm to do so.