Basic Approach
The Maruha Nichiro Group has a history rooted in the sea and spanning over 140 years. Precious natural resources and the natural life force of the sea have supported our growth.

With the increase in the world's population and the economic development of emerging countries, the demand for fish-eating is expected to increase in the future. In order to meet demands and protect marine resources, we will continue to contribute to the creation of a sustainable global environment and society through our business activities.
Medium-term Sustainability Management Plan (FY2018–2021)
Promote Sustainable Use of Marine Resources
Medium-term Goal

Promote acquisition of sustainable fisheries and aquaculture certification
Strengthen efforts to eliminate IUU(illegal, unreported, and unregu-lated) fishing
Expand egg-to-harvest business
Promote eco-friendly farming technology
FY2020

Action Plan (Key measures)

Promote the use of marine products obtained through sustainable fishing/aquaculture certificates (MSC/ASC)
Promote the acquisition of sustainable aquaculture certificates
Implement stricter verifications of imported fishery product traceability
Participation in domestic and international dialogues
Increase production of egg-to-harvest bluefin tuna
Strengthen R&D systems for aquafarming technologies

Achievements

MSC, ASC and other eco-labeled products decreased by 2,133 tons (down 387 tons from FY2020) and 19 tons (down 131 tons from FY2020), respectively
Increased sales of MSC certified fish species such as Atlantic herring, Pacific ocean perch, and Saithe
Promoted activities of the task force (no IUU fishing, no forced labor, etc.) in the Keystone Dialogues (SeaBOS)
Shipped 20,900 egg-to-harvest bluefin tuna
Yellowtail and greater amber-jack eggs are collected and incubated at the Aquaculture Technology Development Center, and then shipped out to sea
FY2021

Action Plan (Key measures)

Expand sales of products with eco-labels such as MSC/ASC and continue product development
Promote the activities of the task force within SeaBOS
Plans to limit egg-to-harvest bluefin tuna production, taking into account deteriorating business profitability and the production volume required for technological transfer and innovation for the future (11,000 fish planned)
Carry out egg-to-harvest and seedling production of greater amberjack
Targets

Maruha Nichiro Group (Japan)
Department in charge

Corporate Planning Department, Maruha Nichiro Corporation
Main Initiatives in FY2020
Conducting Survey of Marine Resources
In order to implement sustainable procurement as a "sustainable corporate group," the Maruha Nichiro Group conducted a survey on the products and raw materials of Maruha Nichiro Group companies to ascertain the current volume of seafood products handled and to evaluate the state of natural seafood resources between July and September in 2020.
Implementation of Maruha Nichiro Group's Marine Resources Survey
Through this survey, we are aware that the strengths and challenges of the marine resources handled by the Maruha Nichiro Group have been clarified.

The Maruha Nichiro Group will examine ways to maintain or expand our strengths in the marine resources handled by the Group and strive to resolve the issues that have become apparent.
Stakeholder Voice
Mr. Jim Cannon
Sustainable Fisheries Partnership
Foundation
CEO
Sustainable Fisheries Partnership works with the seafood industry toward a world where all seafood is produced sustainably and protects marine biodiversity. We commend Maruha for the extensive work you have done to map the sources of your seafood products. With sourcing from hundreds of fisheries globally, this was no easy task but necessary to be able to assess the environmental sustainability of fish stocks using SFP's Fish Source database.

You have created a process to collect and monitor this sourcing information that will enable Maruha to maintain and improve the sustainability of its seafood products into the future. SFP also applauds Maruha's transparent disclosure of the summary of this assessment and encourages you to use your leverage to improve fisheries identified as not yet sustainable.

As one of the world's largest seafood companies, you (can) could have tremendous impact and drive important change in fisheries management and practices across the world. SFP recommends that Maruha join with existing fishery improvement efforts such as Supply Chain Roundtables and other pre-competitive collaborations – as it has done with SeaBOS – to ensure the long-term environmental sustainability of fisheries and the health of the ocean, and aligned the UN Sustainable Development Goal 14, life under water.

*1 Sustainable Fisheries Partnership (SFP): Founded in 2006, it is a marine conservation organization working toward a world where the oceans are healthy and abundant, all seafood is produced sustainably, and everyone has access to sustainable seafood. It leverages the power of seafood buyers and retailers in every part of the seafood supply chain to rebuild depleted fish stocks, reduce the environmental impacts of fishing and aquaculture, and address social issues and advance economic opportunities for fishers and their communities. The SFP Supply Chain Roundtable provides a forum to allow seafood suppliers to work together in a pre-competitive environment to promote and support improvements in fishery and aquaculture practices, management, and policy.
Use of Seafood Products Obtained through Sustainable Fishery/Aquaculture Certificates (MSC/ASC)
The Maruha Nichiro Group actively promotes the handling of MSC/ASC-certified seafood products. As of April 2021, Maruha Nichiro Corporation has handled 2,133 tons of frozen foods for household use bearing the MSC label in FY2020, which was less than the 2,520 tons in FY2019. The amount of foods bearing the ASC label handled in 2020 (period between January 1 and December 31) was approx. 19 tons, which largely decreased from approx. 150 tons in 2018. One of the main reasons was the drastic downturn in demand for prepared foods used in lunch bento boxes due to the COVID-19 pandemic. However, with the decreasing risks of infection, demand is expected to recover with the amount of handling quantities set to increase.  
Trend in Volume of Frozen Foods for Household Use Bearing the MSC Label
(t)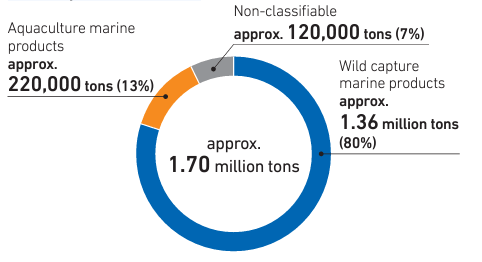 Trend in Volume of Processed Foods for Household Use Bearing the ASC Label
(t)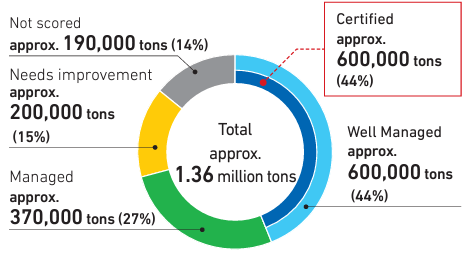 Full-scale Shipment of the World's First ASC Certified Greater Amberjack by Amami Yougyo Inc.
Amami Yougyo Inc. obtained ASC certification for its greater amberjack farm in July 2019, making it the first fish farm in the world to do so. It began full-scale shipment in May 2020, and shipped out approx. 21 tons of ASC certified products in FY2020. We deliver our products to our customers through a coherent value chain that entails unloading a catch, live transport, fillet processing in a specified plant contracted by Maruha Nichiro, and sale through mass retailers.
Increase Production of Egg-to-harvest Bluefin Tuna
Maruha Nichiro is a pioneer of egg-to-harvest bluefin tuna production. One of Maruha Nichiro's Group companies, Aquafarm Co., Ltd., officially began shipping from its aquaculture farm specializing in farmed bluefin tuna in FY2019, and shipped 908 tons in FY2020. In order to strive for further production efficiency, we will temporarily reduce our annual shipping amount to approximately 500 tons, and further focus on the development of production technology.  
Amount of Egg-to-harvest Bluefin Tuna Shipped
(t)
Efforts Put in the Development of Egg-to-harvest Technology Development
We work with the National Research and Development Agency's Fisheries Research and Education Agency (located in the city of Yokohama, Kanagawa Prefecture, hereinafter, "FRA") to develop basic and applied technologies for breeding improvement of egg-to-harvest bluefin tuna.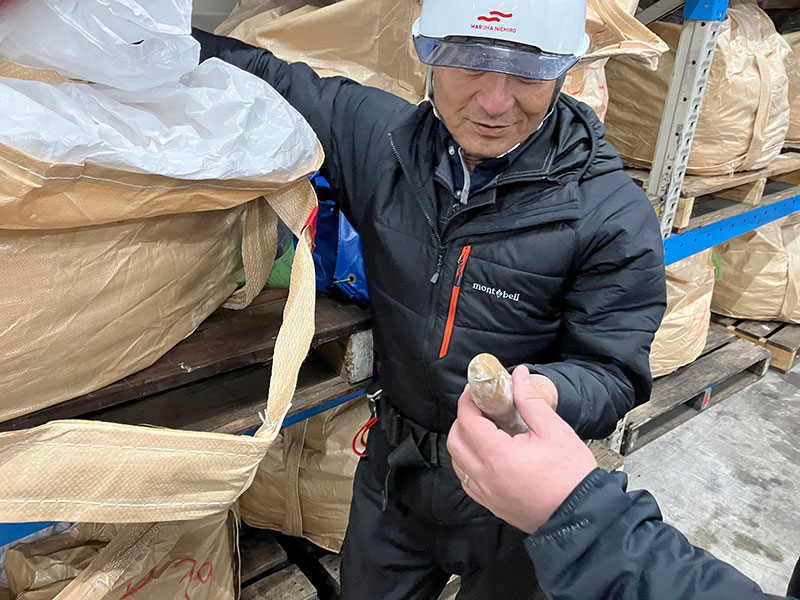 As for yellowtail, we began shipping artificially hatched yellowtail in FY2020, and plan to start selling egg-to-harvest yellowtail in FY2022. In the future, we will continue to focus on the development of egg-to-harvest technology in contributing to the sustainable use of marine resources.
Feed Development to Reduce the Use of Fish Meal in Fish Feed
Maruha Nichiro's Central Research Institute is undertaking efforts, including developing feed to reduce the use of fish meal in fish feed, as part of its initiatives to preserve marine resources. To make effective use of plant proteins such as soybeans, we are conducting research on fermentation processing of raw materials and the use of intestinal bacteria in cultured fish. We are carrying out fish feed testing with the test feed manufactured using the extruder granulator at the Central Research Institute.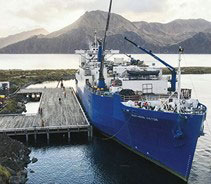 Sakurajima Yougyo Introduces Fish Counting Machine with AI Tracking
We have worked with an outside contractor to develop an automatic counting system for the number of cultured fish that incorporates AI-based image processing technology. This machine began operation at Sakurajima Yougyo Co., Ltd., a Group c ompany that cultivates yellowtail and greater amberjack, in April 2020. Currently, there are six machines at Sakurajima Yougyo Co., Ltd. and two at Aquafarm Co., Ltd., with the plan to further expand going forward. (As of June 2021)  

By automating the counting of farmed fish on board offshore vessels, which used to be done manually, we have reduced the labor of employees who previously spent an entire day at sea counting visually, and improved efficiency by reducing human error. Not only is it employee-friendly and effective at improving efficiency, but it is expected to reduce the risk of marine pollution by allowing the amount of feed to be properly calibrated. Going forward, we plan to expand this technology to smaller juvenile fish and other fish species outside of yellowtail and greater amberjack.
Attending the Review Meeting on Optimization System for Seafood Trade as a Committee Member
As world demand for seafood products increases, it is said that in order to make the Japanese fishing industry a growth industry, it is necessary to establish a distribution framework for exports that is competitive in terms of both quality and cost.

Therefore, in order for Japan, as a major importer of marine products, to fulfill its international responsibilities in terms of thorough resource management, eradication of illegal, unreported, and unregulated (IUU) fishing, and promotion of exports, a legal system for catch certification, which is the starting point for traceability introduced in Europe, the United States, and other countries, is being developed.

In order to establish a more effective system, the Review Meeting on Optimization System for Seafood Trade was launched in September 2019, with the  Fisheries Agency's Fisheries Administration Department's Processing and Distribution Division as the secretariat. After considering preventive measures on the distribution of illegally acquired marine animals and plants, an act concerning regular results of domestic distribution of specific marine animals and plants was enacted and issued in December 2020. The same Act entrusts the specifics of the system, including specification criteria for first- and second-class specific marine animals and plants, as well as fish types included, to ministerial ordinances. Since it is essential to promptly discuss the details, the Review Meeting on Optimization System for Seafood Trade come into existence in order to discuss the contents of the system from both viewpoints of risk base and feasibility of implementation.
Maruha Nichiro Corporation has been attending this "Review Meeting on Optimization System for Seafood Trade" as a member since the first meeting held on May 17, 2021, following the "Investigative Commission on Catch Certification Systems" held from September 2019 to June 2020.

While we will continue to attend and be involved in this meeting, following enforcement of this legal framework, we will properly implement this system and forge ahead more powerfully with the construction of a sustainable seafood products distribution system for the entire Maruha Nichiro Group supply chain.
Initiatives at Overseas Group Companies
Southeast Asian Packaging and Canning, Ltd. (Thailand)
Southeast Asian Packaging and Canning, Ltd. (hereinafter "SEAPAC") participates in the fishing vessels monitoring program for longtail tuna fishing boats within Thai waters together with Thailand's Department of Fisheries and Ocean Mind, a non-government organization, since 2017 to prove its catch of raw materials procured is not a result of illegal, unreported and unregulated fishing. In 2020, a total of 23 fishing vessels were monitored.

The implementation of this program proves that the operation of SEAPAC in procuring raw materials by fishing vessels is in compliance with laws and regulations as well as contributes to the improvement of the monitoring program itself.
More information is published on the website noted below. Please refer to it for details.
https://www.kingfisher.co.th/Updates.php
Austral Fisheries PTY Ltd. (Australia)
Our Group c ompany, Austral Fisheries PTY Ltd. has been certified by MSC as a sustainably managed fishery for all four of the primary fisheries in Australia where it conducts its business activities. See the Austral Fisheries PTY Ltd. website for details.
https://www.australfisheries.com.au/sustainability
Seafood Connection Holding B.V.
Seafood Connection Holding B.V., our Group company in the Netherlands, actively promotes the handling of MSC/ASC-certified seafood products. In FY2019, the company began handling Naturland Certified* Nile perch fillets.

*Naturland (German organic agriculture association): Jointly established in 1982 by organic farmers and consumers in southern Germany as an organic agriculture organization. Naturland farmers and processors conform to Naturland standards and produce the highest quality food products from apples, to cabbage, turkey, salmon, olive oil, coffee, milk and more. All food products produced in accordance with Naturland standards protect the environment and ensure safe employment. Today, there are more than 43,000 Naturland farms around the world practicing cultivation in accordance with Naturland standards.
https://seafoodconnection.nl/media/certficates/naturland.pdf
Looking Ahead
We will expand our activities to implement sustainable seafood procurement within the Group, with the above activity examples as our main focus.