Basic Approach
The Maruha Nichiro Group's business consists of an independent value chain from procurement, through production and processing, to sales. We recognize that climate change poses threats to our business activities such as shifting fishing areas for marine products, shifting production areas for agricultural products, and depletion of marine resources due to the destruction of ecosystems.
As countermeasures against these kinds of risks, we are working to reduce CO2 emissions through efficient energy use and capital investment.
Medium-term Sustainability Management Plan (FY2018-2021)
Combatting Climate Change
Targets: Maruha Nichiro Group (Domestic)
Department in charge: Corporate Planning Department, Maruha Nichiro Corporation

Target
FY2021
Medium-term Management Plan Self-Assessment
Action Plan (Key measures)
Achievements
Reduce CO2 emissions per unit of net sales by more than 4% from FY2017 by FY2021

Continue to control increased usage by improving the work environment
Switching to non-CFC freezers
Raise awareness about energy conservation through in-house educational activities

Although the Group worked together to reduce CO2 emissions, CO2 emissions per unit of net sales increased up 1.1% from FY2017 (4 tons/billion yen)
Switched to non-CFC freezers at 10 of the Group's logistics centers at 8 sites
Reduced use of heavy oil A by repairing boiler equipment and adjusting operating hours

★☆☆☆☆

Promoted CFC-free at logistics centers
Reduced use of heavy oil A by repairing boiler equipment and adjusting operating hours
Numerical target (reduce CO2 emissions per unit of net sales by 4%) was not achieved
Progress toward Attainment of Targets
In FY2021, the Maruha Nichiro Group (Domestic) set reduction targets for each company and introduced equipment such as high-efficiency boilers and high-efficiency freezers, eco-cars, and LED lighting. In FY2021, CO2 emissions per unit of net sales for our entire domestic Group totaled 328 tons/billion yen- a decrease of 5 tons/billion yen (1.7%) compared to the previous period. domestic
The target of the previous Medium-term Management Plan, "to reduce CO₂ emissions per unit of net sales by 4% or more from FY2017 by FY2021, " was not achieved with only a 1.1% reduction."
In FY2022, we will create a CO2 emission reduction roadmap, and will work actively and systematically to further reduce CO₂ emissions.
CO2 Emissions Targets and Progress
Emissions per unit of sales (t/billion yen)
Main Initiatives in FY2021
Formulation a Decarbonization Roadmap
In the Medium-term Management Plan "For the Ocean, for Life MNV 2024," in materiality "Action for climate change " we have set Achievement Targets KPIs of reducing CO₂ emissions by 30% or more from the FY2017 level by 2030 and achieving carbon neutrality by FY2050.
For the Maruha Nichiro Group-wide CO₂ emission reduction, we conducted an assessment of the current situation of energy consumption (electricity and fuel consumption, details of contracts with energy companies, etc.) under the current situation of each business site of the Group, including directly-operated plants, Group manufacturing sites, and logistics warehouses. Moreover, we analyzed the feasibility of installing solar power generation panels and switching to renewable energy sources at each of our business sites, prioritized them, and developed a "Decarbonization Roadmap" as a Group-wide reduction plan.
(1) Analysis of the current situation of CO₂ emissions
The Maruha Nichiro Group's domestic group sites emit (Scopes 1 and 2) approximately 240,000 tons of CO₂, 58% of which is from electricity. A significant portion of Scope 1 is derived from fuel used by fishing vessels in the fishing business unit, but due to technical challenges, a full-scale shift from petroleum fuels to low-carbon fuels is not expected to occur until after 2030. The roadmap for decarbonization this time focuses on the reduction of CO₂ emissions in Scope 2.
(2) CO₂ emission reduction targets and formulation of roadmap
In order to achieve the Group's target of reducing CO₂ emissions by 30% or more from FY2017 levels by FY2030, the period up to FY2030 has been further divided into three phases, with more detailed targets set. In Phase 1 (FY2022 - FY2024), we aim to achieve a CO₂ reduction rate of 10%, in Phase 2 (FY2025 - FY2027) a CO₂ reduction rate of 20%, and in Phase 3 (FY2028 - FY2030) a CO₂ reduction rate of 30% or more, with the ultimate target of achieving carbon neutrality by FY2050.
(3) Review of the action plan
As a specific action plan to achieve the target by 2030, we carried out a questionnaire survey of all domestic Group sites, conducted interviews with major sites, estimated amount of energy saved / on-site solar / off-site solar / renewable energy menu / non-fossil certificate, and reviewed action plans for all domestic group sites through cost impact calculations.
In Phase 1 (FY2022-FY2024), on-site solar will first be introduced at plants and warehouses identified as having the greatest potential for installation, and off-site solar energy will be introduced at a few sites on a preliminary basis. For energy that cannot be covered by on-site and off-site solar, and for sites that are difficult to install, we are reviewing the possibility of switching to renewable energy or introducing non-fossil certificates.
Through the above activities, we project that we will reduce CO₂ emissions by approximately 23,000 tons over the three-year period, achieving our target of a 10% reduction compared to FY2017.
VOICE
Mr. Shuta Mano
Deputy Director,
Business Division and General Manager,
Sales Department Business Headquarters Solutions
UPDATER Inc.
We supported Maruha Nichiro Group in analyzing the current situation of CO₂ emissions, formulating a roadmap, and reviewing an action plan for decarbonization management. The Maruha Nichiro Group's business can only exist if there is a healthy natural environment, as expressed in its message of "For the Ocean, for Life". We believe that the positioning of climate change countermeasures as an important management issue in our recently formulated Medium-term Management Plan is a very important step toward sustainable growth.
From now on, we will finally begin the specific implementation phase based on the roadmap. The Maruha Nichiro Group has many sites both in Japan and overseas, and while drawing on the knowledge and expertise of the people on-site at each site, we would like to support the realization of decarbonized management by applying a creative approach.
Express Support for TCFD Recommendations Conducted a Scenario Analysis in our Aquaculture Operations
The Maruha Nichiro Group has designated " Action for Climate Change" as one of the main objectives in the creation of "environmental value" in the Medium to Long-term Sustainability Management Plan formulated in 2018. We are aware of the risks that climate change poses to our current business activities, and we believe it is important to promote appropriate responses to these risks, as well as to consider and prepare for multiple scenarios of new business opportunities. In July 2021, Maruha Nichiro Corporation entered a project sponsored by the Ministry of the Environment to support scenario analysis of climate risks and opportunities in line with the recommendations of the Task Force on Climate-Related Financial Disclosures (TCFD), and we were selected as a participating company in the project. At the same time, we expressed our support for the TCFD recommendations and joined the TCFD Consortium.
In this "Climate risk/opportunity scenario analysis support project in line with TCFD recommendations," we conducted scenario analysis on aquaculture operations, and the results of the analysis were published on the website of the Ministry of the Environment (in Japanese) in March 2022. In the future, we will continue scenario analysis and conduct climate-related financial disclosures on governance, strategies, risk management, requirements, and targets.
Our scenario analysis can be found below.
Expand Energy-saving Equipment and Improve Energy Efficiency
Case Study: Introducing State-of-the-art Labor-saving and Energy-saving Equipment
The Maruha Nichiro Corporation Shin-Ishinomaki Plant, which relocated due to damage sustained during the Great East Japan Earthquake of March 2011, has introduced state-of-the-art equipment such as automated guided vehicles that can carry raw materials and other materials to a predetermined position, in addition to various labor-saving devices for use in production. In addition, all the lighting in the plant has been changed to LEDs, and the superheated steam fryers and freezers have been upgraded to the latest energy efficient models. Furthermore, the plant has also adopted an "energy visualization system" that makes it possible to manage all of these energy usage conditions at once.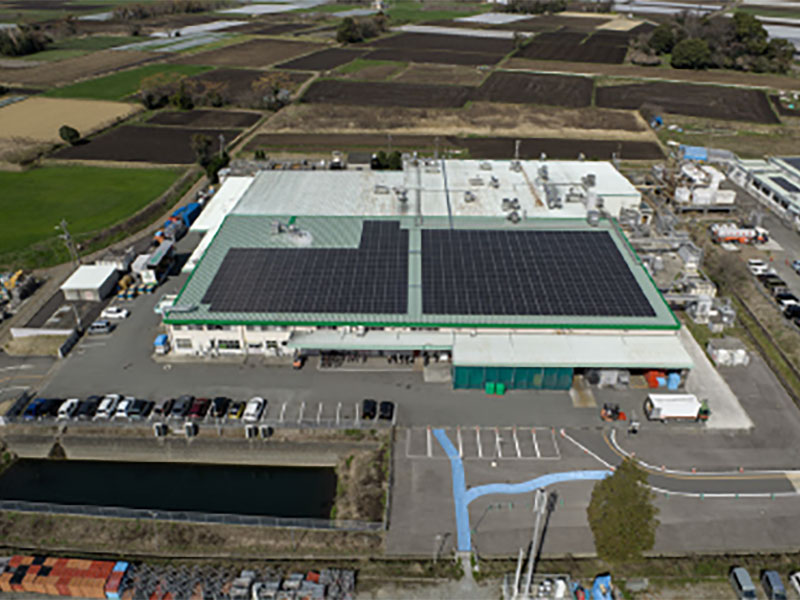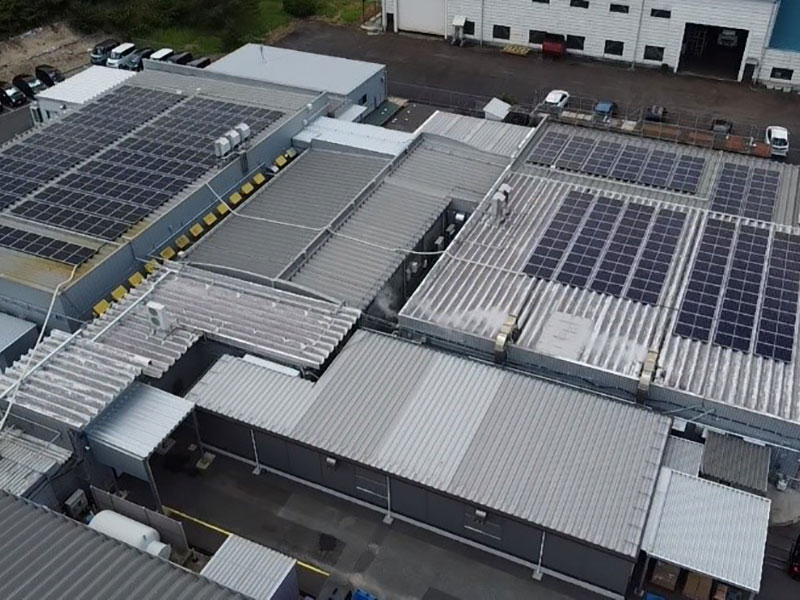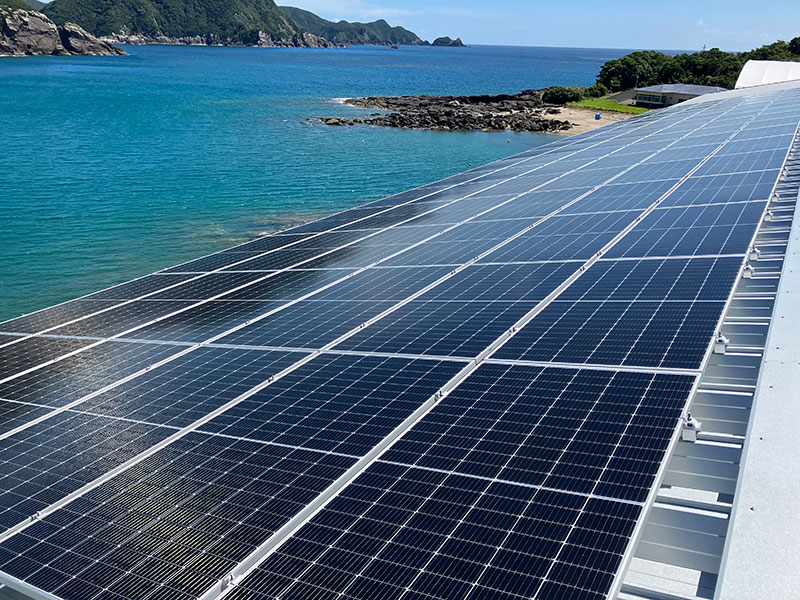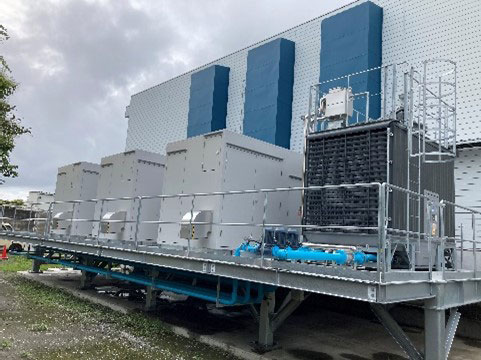 Switch to Non-CFC Freezers
Case Study: Upgrading Freezers for Frozen/Refrigerated Warehouses to non-CFC Equipment
Maruha Nichiro Logistics, Inc. introduced non-CFC cooling equipment using high-efficiency natural refrigerant chillers for freezing and refrigerated warehouses at a total of three bases in FY2020. The three bases have been selected and subsidized by the Ministry of the Environment as part of its "Project for Accelerated Introduction of Energy-saving Equipment Using Natural Refrigerant for the Early Realization of a Fluorocarbon-free, Low-carbon Society." In FY2021, we reduced CO₂ emissions by 4,659 tons over the year at a total of three bases.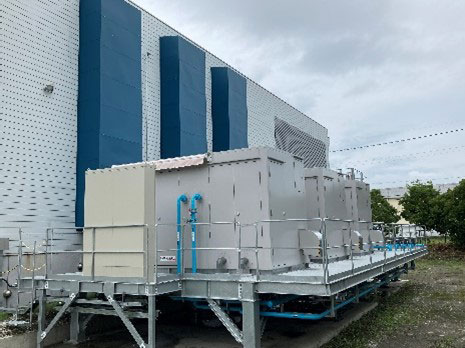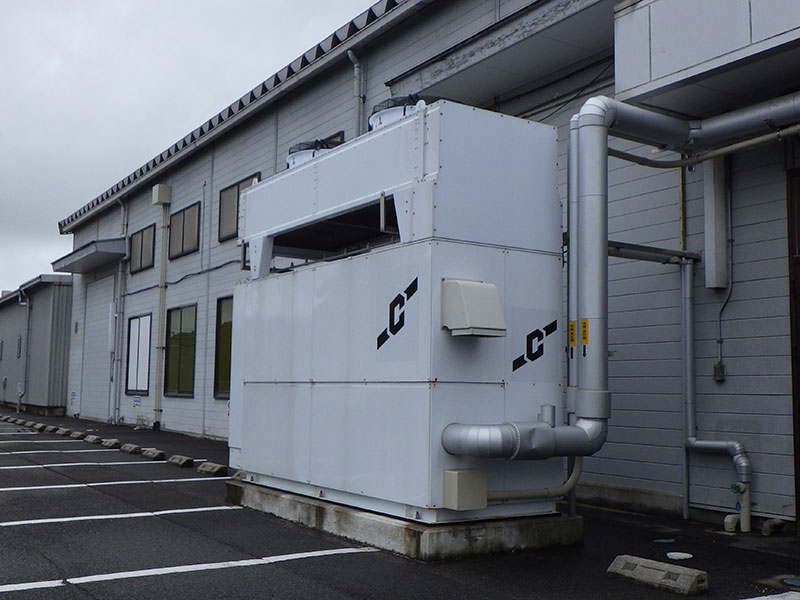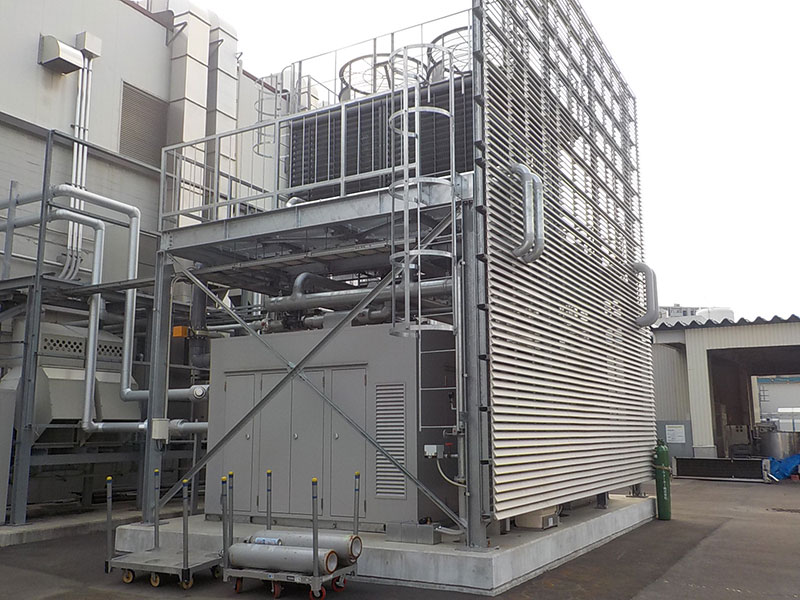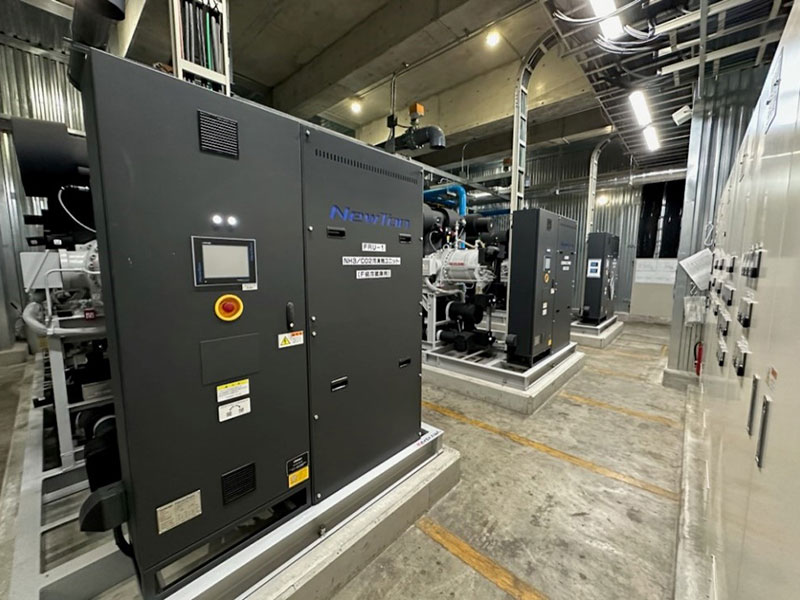 Renewable Energy Use
Case Study: Installation of Solar Panels
In March 2021, we installed solar panels on the roof of the building at the Maruha Nichiro Corporation's Utsunomiya Plant. This has enabled us to supply part of our purchased electricity through solar power. As a result, we generated approximately 245,000 kWh and reduced CO₂ emissions by approximately 129 tons annually.
Case Study: Adoption of Biomass Ink
Maruha Nichiro Group is helping to reduce CO2 emissions by actively utilizing biomass resources. We have adopted the use of plant-derived biomass ink in a portion of ink used on the packaging films for commercial frozen foods.
Case Study: Promoting the Use of Non-gasoline Vehicles
Seafood Connection B.V. has switched 48.3% of the company's registered fleet to electric vehicles (EVs). Trans-Ocean Products Inc. established a booth to promote commuting by bicycle and other means by giving away water and imitation crab meat, in conjunction with the local Smart Trips activity day (encouraging people to bike, walk, carpool, take the bus, etc.). Trans-Ocean Products Inc. also encourages its employees to walk, bike, or carpool to work.
Case Study: Promoting Carbon Neutral Activities
Austral Fisheries Pty Ltd. in Australia has obtained carbon neutral* certification and is promoting a tree-planting program in the wheat belt of Western Australia as a part of that effort. Our Group organization with locations in Australia that have acquired a carbon neutral certification are recognized as members of the Climate Active Network. This carbon neutral undertaking is positioned as a further step toward stable supply of marine resources. Products are marked with the "CN fish" brand logo, and the company is working to expand sales of environmentally friendly products.

*Carbon neutral: Refers to business activities that release net zero CO2 emissions into the atmosphere by offsetting the total amount of emissions through the implementation of measures that reduce CO2 in the atmosphere by the same amount.
KGIs and KPIs from FY2022 to FY2030
In line with formulating the new Medium-term Management Strategy "For the Ocean, for Life MNV 2024," we reevaluated the new nine important issues (materiality) on March 28, 2022, and formulated Ideal State in 2030 (KGI) and Achievement Targets (KPI) for each materiality.
We will work on the targets formulated from FY2022 to be Ideal State in 2030.
Materiality

Action for climate change issues
Ideal State in 2030 (KGI)

Establish a leading position in the industry for decarbonization and action for climate change
Achievement Targets (KPI)

| GRI Standards | Target value | Target year |
| --- | --- | --- |
| Formulation of CO2 emissions reduction roadmap (Domestic G) | - | 2022 |
| CO2 emissions reduction rate (FY2017 ratio: Domestic G) | 30% or more | 2030 |
| Achieve carbon neutrality (Global G) | - | 2050 |
Main SDGs to which we contribute