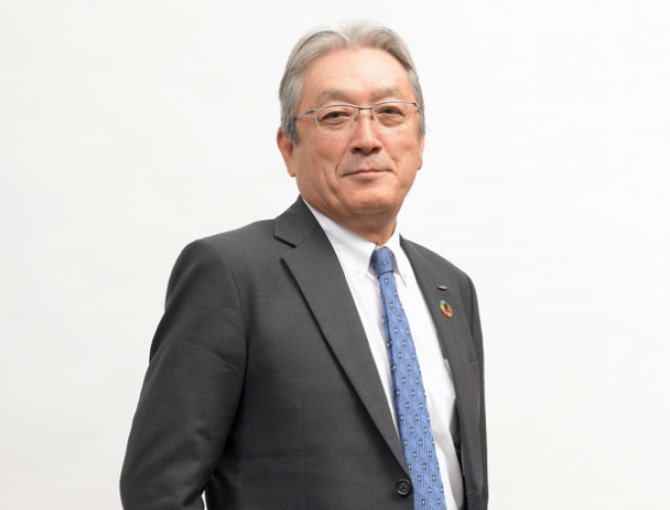 Generating Growth as a Sustainable Corporate Group that Confronts Environmental and Social Issues
Shigeru Ito
Representative Director, Chairman of the Board
Maruha Nichiro Corporation
Achieving Sustained Growth
I believe the companies that will survive in the future will be those that combine sustainable business growth with a positive impact on the environment and society.

For over a century, Maruha Nichiro has enjoyed the benefits of bountiful ocean resources and the natural environment. Now, without direct and immediate action, the environment faces an uncertain future. Because of this, the future of our company must address and resolve an important question moving forward: How can we maintain the sustainability of our resources and continue to grow our business at the same time? I believe that now more than ever, society is looking to us to step up and show that we can answer this question with confidence by acting responsibly and fulfilling the expectations of society.

With this in mind, we created a Long-term Corporate vision we except Maruha Nichiro to embody within the next decade: "To be a global general food company that produces and sells marine products and other processed foods under the Maruha Nichiro brand." Our 2018 Medium-term Management Plan was informed by these ideas.
Note:
Please see Investor Relations > Medium-term Management Strategy.
Medium to Long-term Sustainability Management Plan
Our business is inextricably linked to the environment and the communities that inhabit it. In clear terms, we've set up a plan that harmonizes our aspirations of business growth with an environment that keeps communities thriving long into the future. Our new Medium-term Management Plan does exactly that—by comprising both business strategies and our Medium to Long-term Sustainability Management Plan to realize the dual objectives of enhancing corporate value and establishing sustained growth.
Medium to Long-term Sustainability Management Plan
The Sustainability Management Plan is a long-term plan to focus our business activities on creating three types of value: Economic Value, Social Value, and Environmental Value. We have defined main objectives and set clear quantitative and qualitative targets in each category.

To create Economic Value, we will continue growing and developing our businesses as an integrated food company. We have set a concrete vision for where we want the company to be in 10 years. By achieving the sustained growth set out in this vision, we can return profits to shareholders and employees and return economic value to local communities by creating jobs and contributing through taxes.

To create Social Value, we will reaffirm our commitment to our mission: provide safe, secure, and healthy food to customers through our business as an integrated food company. We also must not forget that we, directly and indirectly, receive social capital from our employees, business partners, and local communities. We will pinpoint the specific responsibilities we need to meet to fulfill the expectations of our stakeholders.

To create Environmental Value, we recognize our business has reaped the benefits of nature and its bounty for many years. So we are actively advancing measures to fight global warming, establishing a recycling-oriented society, and preserving our marine resources.

The Maruha Nichiro Group has business sites around the world, and each have extensive supply chains with individual suppliers. We will put in the time and effort to methodically assess the social and environmental aspects of all our supply chains.
Respect for Human Rights
In addition to our priority issues, this year we will also carry out Group-wide due diligence related to human rights. We established a Fundamental Policy on Human Rights and are now defining the parameters and creating a roadmap for our assessments with the intention of incrementally broadening the scope of our surveillance.
Maruha Nichiro Group Human Rights Policy
The Maruha Nichiro Group conducts its activities in a manner that respects the basic human rights of all persons around it, in order to practice the Group Philosophy: "We aim to be an essential part of society by improving everyone's daily life with wholesome, safe, and healthy food."
The Structure of Maruha Nichiro Group Human Rights Policy
Respecting Human Rights
Practicing Human Rights Due Diligence
Scope of Application
Positioning of the Human Rights Policy
Regulatory Compliance
Important Human Rights Issues
Dialogue with Stakeholders
Note:
Please see Sustainability > Human Rights for information about our approach to respecting human rights.
Participating in the International SeaBOS Initiative
"SeaBOS is a global coalition between companies with a strategic vision to actively contribute to addressing the ocean stewardship challenge. I am committed to making this initiative a great success and ensure that we fulfill our global responsibility." This was my message to the Seafood Business for Ocean Stewardship (SeaBOS) representatives in September 2018 when I was appointed the first chairman of the SeaBOS initiative.

The SeaBOS organization was created in 2016 by eight of the world's largest seafood companies (10 companies as of October 2019) and scientists researching ocean, marine fisheries, and sustainability. The global group was formed as an international coalition to advance strategies and initiatives based on scientific evidence and to take the lead in ensuring sustainable production of seafood and a healthy marine environment. Maruha Nichiro has been participating in SeaBOS since its inception.

There have been numerous attempts to advance initiatives to protect our oceans and natural environment, but I believe strategies proposed by an organization of 10 of the world's largest seafood companies will have a special force. As the chairman of the SeaBOS initiative, I will do my best to lead the organization and help preserve the sustained growth of the world's marine resources.

Note:
Please see the Sustainability > Stakeholder Engagement > Initiatives for information about our participation in SeaBOS.
The Maruha Nichiro Philosophy
At the end of March 2019, the Maruha Nichiro Group comprised 150 companies. Beginning in 2014, myself and company executives have been leading Group philosophy training sessions at our companies and factories in Japan to ensure all employees understand the Group mission and values.

The Maruha Nichiro Group Philosophy is the foundation for our activities in each category of Economic Value, Social Value, and Environmental Value. Conveying the philosophy to all employees in the Group is a top priority. We put a great amount of effort into assisting each employee's understanding of the foundational basis of our business: why we exist and why we make our products. Through dialogue and discussion, executives visit Group companies and factories to spread our message, in their own words, directly to all employees and managers. We believe this informal approach is the best way to communicate our philosophy.

I've seen firsthand how this approach helps align the Group's strategic activities and positively impacts risk management and compliance. I hope to extend these types of discussions to Group companies overseas.

Note:
Please see the Sustainability > Sustainability Management > Management Approach for information about our Group Philosophy Training.
Bringing Delicious Delight to the World
Food provides a sense of enjoyment unique to our industry. Providing products that bring joy makes our job immensely gratifying. Yet, we need every employee of the Maruha Nichiro Group to do their part to keep our business on a growth trajectory that drives our ability to fulfill our Medium-term Management Plan and achieve the Corporate Vision of the next 10 years. As we carry out our daily tasks, we hope everyone will be conscious of the fact that Maruha Nichiro exists by the grace of society and our shared Earth.

This Corporate Sustainability webpage showcases the framework of the Medium to Long-term Sustainability Management Plan and a discussion of our main objectives. It's our first attempt at providing a comprehensive sustainability report and, as such, we have made every effort to conform to the standards of the core items in the Global Reporting Initiative (GRI). By issuing this webpage, our goal is to stimulate dialogue with our stakeholders to help us provide even better information disclosure in the future.