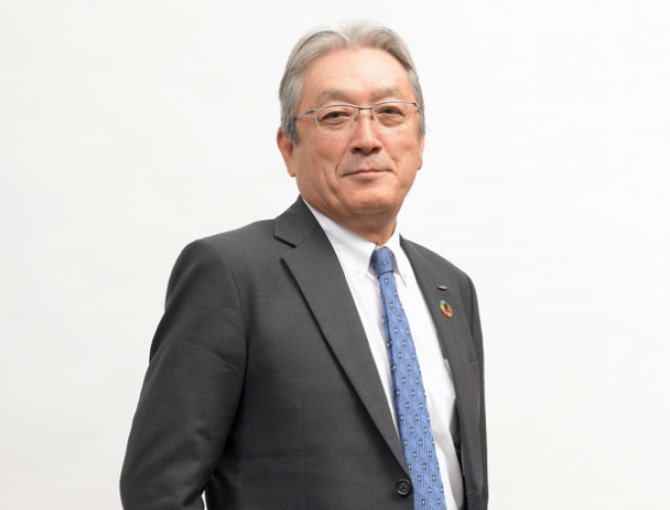 We will maximize our enterprise value and create a sustainable planet and society by putting into practice medium- and long-term strategies that integrate management and sustainability.
Masaru Ikemi
President & CEO and Representative Director
Maruha Nichiro Corporation
Emergent Issues in the Previous Medium-term Management Plan and Redefinition of Our Long-term Corporate Vision
One of the factors behind our not achieving the previous Medium-term Management Plan was the deterioration of business performance due to the drop in fish sales prices caused by the Corona disaster, and another was the existence of businesses that faced challenges in their business structure. For example, the salmon business in Alaska, U.S.A, experienced increased competition and other structural issues as new producers entered the market, making it difficult to procure raw material fish, so we transferred the salmon and trout business of our subsidiary Peter Pan Seafood Inc. to another company and withdrew from this business. In light of these cases, we delved deeply into why the issues emerged in the first place, and reviewed whether we should just continue with our current businesses. Within our limited resources, we will not be able to increase enterprise value and achieve sustainable growth unless we clarify on a daily basis whether to invest funds in appropriate areas and withdraw from areas that are not expected to be profitable. Accordingly, we have come to the conclusion that we need to clarify our meaning of existence and redefine our management vision from a long-term perspective with an eye toward VUCA*.
In our redefined Long-term Corporate Vision, we have set forth the following three visions as (1) to contribute to making the earth and society more sustainable by creation of economic, social, and environmental value through business, (2) to enhance value proposition of "Maruha Nichiro Brand" globally, and contribute to enhancing customers' health value as a general food company, and (3) to strengthen and make sustainable value chain based on the business activities of procuring marine resources and food processing technology, and maximum enterprise value.
* VUCA: A term derived from the initial letters of Volatility, Uncertainty, Complexity, and Ambiguity. For society and business, this means a situation in which the future becomes more difficult to predict.
Issues and Outlook for Maximizing MNV in the New Medium-term Management Plan
For the realization of the new Long-term Corporate Vision, we have drawing a roadmap for discontinuous growth by back casting and a new Medium-term Management Plan "For the ocean, for life MNV2024," as a concrete path to achieve this. Given our limited management resources, we must always be aware of judgments about where to invest capital to achieve overall optimization and how to create value, and this is the essence of this time's New Medium-term Management Plan. We have declared our aim of "Value Creation Management," which is to maximize Maruha Nichiro's value (MNV: Maruha Nichiro Value). With governance as our foundation, Maruha Nichiro believes in increasing the value of the entire Maruha Nichiro Group (MNV) by enhancing economic values, social values, and environmental values through an integrated approach.
This time we have introduced MNV, which is one of the approaches underlying the strengthening of our sustainability perspective. Although we had been focusing on the sustainability perspective since the previous Medium-term Management Plan, the time horizon was long, and the targets we announced were not in-depth indicators. I felt that we needed to be able to confidently publicize this information internally and externally this time, so I proceeded with a design with a strong awareness of the integration of sustainability and management strategy.
Another perspective is to practice business portfolio management. Ultimately, we plan to redirect this to ROIC management, but in the process, we must take a hard look at business profitability as a management team, with the approach that what has been the norm up to now is no longer the norm. To survive in an uncertain world, we must leverage all of our tangible and intangible assets, and be prepared and courageous enough to cut down on waste as unnecessary. The practice of a business portfolio is an important approach that can lead to the maximization of MNV.
Through the business merger, Maruha Nichiro has brought the two companies together, but we need to combine our strengths a little more in terms of functionality. I believe there is still room for that as well. The Company is also reorganizing its business units to coincide with the start of the New Medium-term Management Plan, with the aim of reexamining its own strengths and maximizing the use of these strengths.
Implementing Sustainability Strategies (Review of Materiality)
At the time of formulation of the previous Medium-term Management Plan, the Company judged it must tackle sustainability head-on and formulated the materiality. However, we decided to review our materiality because our own sense of speed with regard to sustainability has changed, including the business risks posed by climate change issues, limited marine resources, and the consideration of human rights issues in the value chain.
It is also important to define the ideal state from a medium- to long-term perspective, but the sense of speed at which the Company is working as a whole should not be based on a medium- to long-term perspective, which is another reason why we decided to review the materiality. We are at this very moment facing declining marine resources. If we look at the reality in this way, that Pacific saury harvests and salmon run are declining, we cannot afford to be complacent and assume that this is a medium- to long-term issue.
First of all, we have been undertaking marine resource surveys and other activities based on the recognition of the need for an accurate understanding of the current situation, but the next step is to strengthen our supply chain management. In FY 2020, we surveyed 1,097 suppliers on their status of compliance with the Supplier Guidelines. In order to maintain and enhance the corporate brand, it is important to have certified plants that manufacture Maruha Nichiro brand products among our suppliers. While cooperating with the supply chain centered on certified plants, we will work to increase social value throughout the supply chain, both for society and for ourselves.
Outside Directors also participated in this time's review of materiality and shared their points of view on the issues, and it was a meaningful opportunity to receive suggestions and opinions based on their respective knowledge and experience.
The practice of materiality review in the future will be essential. Although the practice of materiality differs according to each materiality in terms of speed, the entire Company will work together to implement the materiality through progress management based on KPIs formulated for each materiality.
Moving toward an Organization Where People and the Company Can Grow
To establish our position as the No. 1 global seafood supplier and maximize our three values from now on, it is important that we, the management team, carefully communicate the challenges we are facing to all employees.  I would like to share with our employees the concept of working together with colleagues who share our vision, to develop ourselves, to increase our enterprise value, and to grow together with our employees and the company.
In future business decisions, it is possible that the Company may withdraw from a business that it has been involved in with great care and dedication. Hence, management must disseminate the strategy, even if it takes a considerable amount of time to do so. Then, the goal is not to take the time but to get people to become convinced of the goal. This is also true for those outside the Company. Even if it is said that we are engaged in resource management, I believe that we must convey the significance of our efforts and the specifics of how we are doing this so that all stakeholders can understand our efforts. I believe that empathy for growth stories, understanding of strengthening supply chains, and careful explanations are all fundamental.
In order to realize future sustainable growth, it is important to enhance economic, social, and environmental value based on business portfolio management, and employee understanding of the strategy is key to judging management decisions appropriately. It is my hope that through every opportunity, we will disseminate our strategy to our employees and gain their understanding, so that we can grow as the global health value creation company of choice.
Maruha Nichiro will continue our advancement in order to meet your expectations. Thank you very much for your continued support.