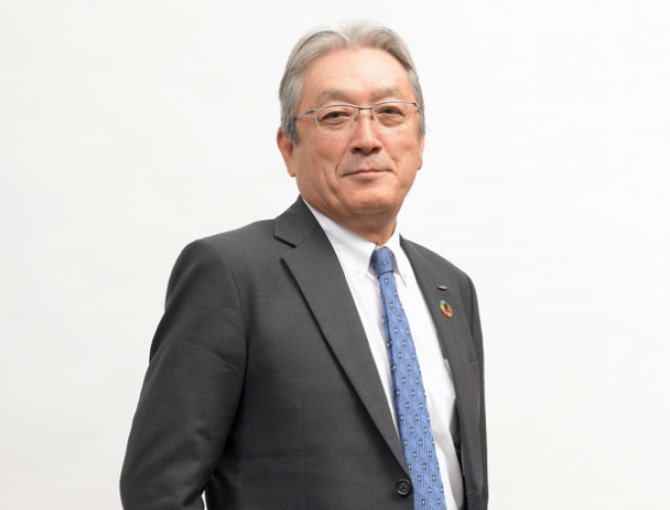 We are building an organization and strategy that can respond to changes in the business environment, aiming to become a true No.1 global seafood supplier.
Masaru Ikemi
President & CEO and Representative Director
Maruha Nichiro Corporation
What is Maruha Nichiro's Meaning of Existence and Purpose?
It has been one year and five months since I assumed the position of President & CEO, and this time has been a period of daily struggle to cope with the COVID-19 pandemic. Therefore, I have been thinking of what we could do to ensure the longevity of the company, and in doing so, I feel that I have had more and more opportunities to think again about what is the meaning of Maruha Nichiro's existence (purpose). Food is essential to daily living. And among all food sources, protein is an indispensable nutrient. For 140 years, we have consistently provided people around the world with seafood products, a high-protein food source. For that reason, I believe that our meaning of existence and mission is to provide a stable supply of seafood products to people across the globe.

When considering the meaning of existence, we must never forget that a company is not only about economic value. Also, we must never forget who is evaluating the value of the company. It is not ourselves but others who evaluate us. In other words, to enhance corporate value we must meet the expectations of stakeholders. I have become even more aware than ever of the way we should enhance our corporate value by gaining the support of our stakeholders.

Economic value, such as high profitability and a healthy financial standing, is the most important foundation, and without securing economic value, we cannot take on other challenges. If we don't recognize this fact and then consider environmental and social values from the same perspective, I feel that our meaning of existence as a company will be diminished. I have felt this point also through conversations with our investors and other stakeholders.

For over 140 years, we have been a company that lives off the bounty of nature, including marine resources. Placing importance on environmental values is directly related to business profit itself, which is our livelihood, so it is only natural that we should practice the kind of management that emphasizes it. I believe that this is also the meaning of our existence.

On many occasions, we have been referred to as the No.1 global seafood supplier, but I believe that this probably refers merely to net sales. However, we, ourselves, must reflect once again on what it means to be the No.1 global seafood supplier. I think we will be able to boast that we are truly number one when we become the world's No. 1 company from any perspective and have the highest net sales, while also taking in consideration the global environment and depletion of marine resources. I feel that we need to reach such an existence as soon as possible.
Risks and Opportunities for Sustainable Growth
When looking ahead to sustainable growth in the future, I believe that the risks and opportunities are the areas of human resources and technology, as I mentioned earlier. This is because, depending on our strategy and how we proceed, there is a big difference between the two. If we always rely on our internal research labs and in-house training it will be difficult to catch up with our competitors. In other words, if the company has a competitive advantage in terms of human resources and technology, it is more likely to be able to take advantage of all opportunities. In Japan as well, it is no longer the era when excellent human resources remain in one company. We will strive to establish a human resource system and framework that enables us to accept new knowledge and to create an environment that facilitates the participation of new, outstanding human resources from outside the company while maintaining our tradition. 
Integration of Sustainability and Management
For us, having lived together with the sea, the integration of sustainability and management is a natural and inseparable relationship. Of course, in the short term, there will be costs associated with enhancing environmental and social values. If we only consider the short-term cost aspects, such as doing business with fishing companies that do not operate illegally or creating a working environment that takes into consideration the health of employees, it is possible that economic value will be lost. However, if we consider the situation from a medium- to long-term perspective, a different landscape will emerge. The fact that we only handle resource-controlled seafood products can be considered a value in today's social trends.

When it comes to food loss as well, the reality is that, more than 10 percent of the current food production is lost. Therefore, even if costs are incurred it would be a value for us, if a product form or distribution method that does not cause food loss can be assembled as a system. I believe that then, we can achieve both, economic value and environmental and social value, in other words, the integration of sustainability and management. The same can be said for the issue of marine plastics. If microscopic plastic particles enter the organs of fish, then what is the value of fish? Society is undergoing changes that are completely different from what we have seen in the past.

As for the integration of sustainability and management, we are also pursuing an approach from a strategic perspective. We are currently in the process of formulating our next Medium-term Management Plan, and in parallel, we have initiated a review of our materiality. When we formulated the current Medium-term Management Plan, we began working on the Medium-term Sustainability Management Plan after formulating the Medium-term Management Plan. This time, however, we are considering sustainability and management strategies in parallel from the planning stage. I think it's an effective process, both in terms of the linkage of each strategyand in preventing gaps in perceptions among the management.

It is often said that the main obstacle to achieving the integration of sustainability and management is a lack of understanding within the company, but I believe that the reality is that deflation is also a major reason. All stakeholders engaged in the value chain share the recognition of what truly has value, deal with it at a fair price, and the business operator at the top of the value chain receives a fair profit. In order to become the No.1 global seafood supplier in both name and in substance, I would like to take a leadership role in ensuring that all stakeholders involved in seafood products can maintain a sustainable lifestyle. The Maruha Nichiro Group will continueour advancement in order to meet your expectations. Thank you very much for your continued support.