Basic Approach
The Maruha Nichiro Group's mission as a provider of food is to contribute to the betterment of people's lives by providing food that is wholesome, safe, and healthy. Our success depends on the quality of our products. We are constantly looking at our products from the customers' perspective to know the quality they are looking for, and we provide that quality in the form of safe food products. All of our employees work together to maintain and constantly improve the quality of our products so we can provide safe and reliable products and services and continue earning the trust of customers.
Medium-term Sustainability Management Plan (FY2018–2021)
Quality Assurance System
Medium-term Goal

Quality control system
Spread as appropriate operations of Maruha Nichiro Group quality assurance regulations
Action Plan

Engage in quality PDCA activities as a whole group


Position design and development, raw material procurement, and human resource training as key themes—strive for continual improvement
Food Safety System
Medium-term Goal

Promote the acquisition of more certifications in globally-recognized food safety management and its effective operation
Action Plan

Strengthen cooperation throughout the whole supply chain
Enhance factory inspections/instructions
Improve quality and hygiene control—and education systems
Food Defense System
Medium-term Goal

Maintain good working conditions and improve defense levels based on Maruha Nichiro Group's Food Defense Management Rules
Action Plan

Enhance factory inspections/instructions
Continue with food defense management and education
Status of Customer Value (PDF: 256 KB/7 pages)
Quality Assurance Policy
To be a food brand that people trust, consistently offering safe products and reliable services should be the highest priority. The Maruha Nichiro Group maintains the Maruha Nichiro Group Quality Assurance Policy, which is rooted in the group philosophy.
Maruha Nichiro Group Quality Assurance Policy
Comply with all laws and regulations in Japan, overseas, and globally
Strengthen links throughout the supply chain and constantly raise the level of quality assurance
Value communication with customers and proactively provide appropriate information
Listen sincerely to the customer, value their opinions, and use this to improve our products, services, and corporate activities
Implement quality assurance activities in line with Group regulations that are framed on international standards for quality management systems
Help all employees improve their knowledge and technical abilities while raising awareness of quality
Quality Assurance System
The Maruha Nichiro Group's quality assurance structure is organized with the Management Board as the highest decision-making body for quality assurance issues and in charge of setting and implementing necessary quality assurance policies and initiatives. The Quality Assurance Committee deliberates quality issues and serves as an advisory body to the Management Board.

The Quality Assurance Department at Maruha Nichiro, the central company of the Group, is essential to setting quality assurance policies, monitoring and improving quality management through audit and product data systems, collecting and reporting data for disclosure of quality information, and initiating employee training programs to increase quality awareness.

Quality Managers and Quality Officers are appointed for each Company department and Group company to communicate information about Group policies and measures and to create and implement quality assurance strategies.
Quality Assurance Structure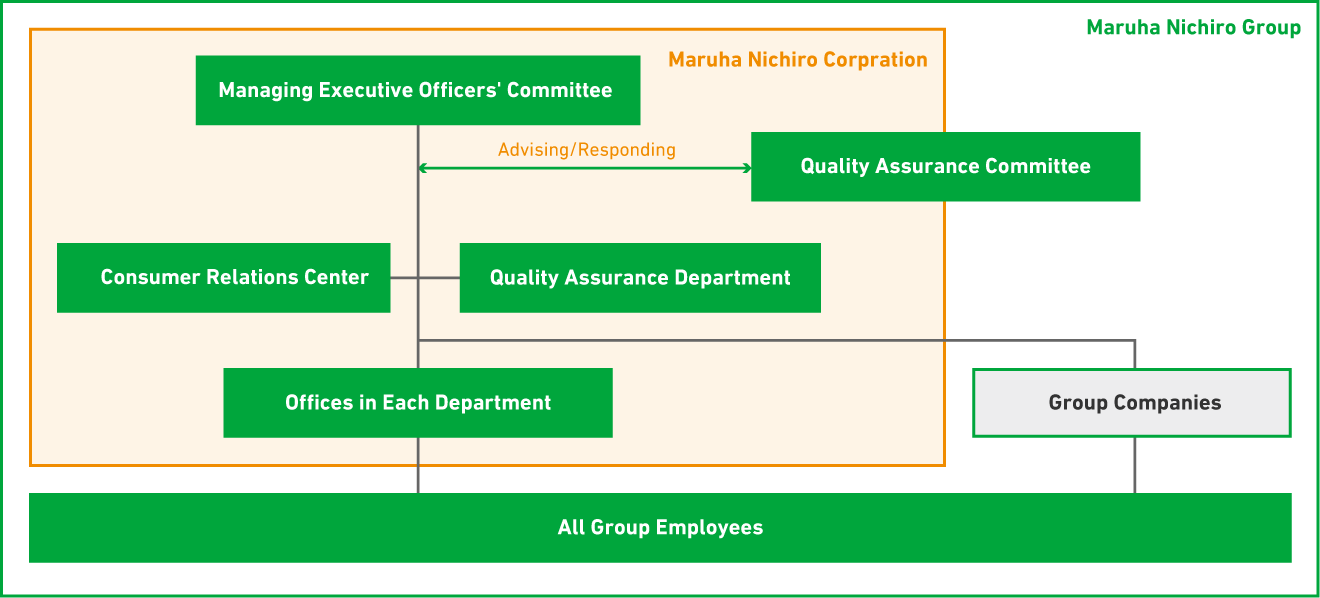 Inspection Systems
The Food Safety Group at Maruha Nichiro is dedicated to assuring the safety of the Company's food products based on scientific evidence. The Food Safety Group scientifically verifies the safety of Maruha Nichiro Group products and contributes to enhancing quality assurance in the following ways.
Testing Activities
The Food Safety Group has a comprehensive testing structure for microorganisms, agricultural chemicals, veterinary drugs, allergens, and other items important to assuring product safety.

The Group's microbe and agricultural chemical test laboratories have acquired ISO/IEC 17025 accreditation to further assure customers that the Group's inspections meet the highest international standards.
Providing Inspection System Maintenance and Technical Support at Food Manufacturing Sites
The Food Safety Group maintains and reinforces the Group-wide quality assurance system by working closely with inspection laboratories at the food manufacturing sites, providing audits and technical guidance for inspection systems, conducting quality control tests, helping address quality issues, and providing practical training.
Exploring and Developing New Analysis Technologies
The Food Safety Group is constantly researching and developing analysis technology that can quickly and accurately detect food poisoning bacteria, allergens, and other potentially hazardous substances.
Education and Training
Quality Education and Training
The Maruha Nichiro Group cultivates human resources with the ability to maintain and heighten the level of quality that is vital for a food company by providing training in quality, programs to build each person's knowledge and skills and raise awareness of quality issues.

In fiscal 2018, over 3,300 employees participated in seminars covering the topics of food labeling (number of seminars conducted: 16), quality control (5), food defense (12, including 3 held at factories and 9 at logistics sites), ISO (2), Food Safety System Certification (FSSC) study session (1), customer service (16), customer feedback monitoring (16), and customer satisfaction (2).
Product Safety from Factory to Customer
Maruha Nichiro applies strict internal standards at every step of preparation and delivery to ensure the safety of all products.
Product Delivery Process Chart
Design and Development
Products are created using food materials that have been verified for safety. Manufacturing processes are regulated through multiple tests in the factory to ensure food safety during manufacturing, such as during food heating and cooling conditions, and are maintained to verify that product quality meets the Group's strict standards. All products carry the quality labeling as required by law and food product packaging provides clear ingredient lists and preparation instructions for customers.
Ingredient Procurement
Only Ingredients Verified as Safe, No Exceptions
We understand that the quality of ingredients impacts the overall quality of the product and select only ingredients verified as safe and that have clear documentation for who, where, and when the item was grown or manufactured.
Manufacture
Maruha Nichiro Group Sanitation Management Standards
The Maruha Nichiro Group has created its own Sanitation Management standards based on ISO 9001, ISO 22000, FSSC 22000, Global Markets Program, related laws, and quality management standards. The Company's standards apply to its directly managed manufacturing sites, Group companies, and contracted manufacturing sites.
Food Defense
The Maruha Nichiro Group has created its own Food Defense Management Standards and implements various hazard prevention measures to prevent intentional acts to harm the food supply, such as monitoring chemical agents and foreign content and improving employee communication.
Quality Testing Controls
Ingredient Management
- Acceptance Inspection
The Company verifies supplier quality certificates and test data for all ingredients.
Process Management
- Manufacturing Management
All manufacturing equipment is supervised by managers who have received general basic instruction and specialized training. The latest testing equipment is located in close proximity to food processing sites, and all managers participate in specialized technical training to augment their managing capabilities.

- Sanitation Management
Factory workers wear special clothing, hats, masks, and shoes and must pass regulatory checks before entering workrooms as part of measures to prevent contamination from microbes and foreign substances.

- Process Inspections
Process management includes inspections specifically designed for each type of food product. The Company has an extensive system of cameras and monitors enabling centralized monitoring for defective products within each process.
Product Management
- Product Inspections
Specially appointed quality management staff confirm the quality of each final product based on inspection standards and product specifications allow only products that have passed the inspections to be shipped.

- Radioactive Substance Testing
The Company actively tracks government monitoring data and, based on the material's location of origin and processing, regularly tests ingredients to ensure our products are within the standard limits for radioactive substances stipulated by the Food Sanitation Act.

- Traceability System
All data from the acceptance, processing, and product inspections as well as shipment conditions is recorded and archived to create a fully documented history for each product. We also conduct periodic "recall drills" to be fully prepared in case a quality issue or other type of problem occurs to ensure we are always able to quickly and efficiently gather data on all processes from raw materials to final product.
Storage and Logistics
Maruha Nichiro Logistics carries out the Group's storage and logistics operations with quality control management based on the guidelines for ISO 9001 certification. The company provides comprehensive logistics services meeting client specifications at all stages from customs clearance to storage, transportation, and delivery.
Product Information Disclosure
Product Data Verification System
Maruha Nichiro has a certification system for managers to prepare product specification sheets showing specific basic information about the product, and managers that have completed a prescribed training program are authorized to prepare and review the spec sheets.
Product Data Disclosure
Maruha Nichiro makes its product data easily accessible to customers on its website, including nutritional information, manufacturing plant site and country, allergen information, and the source location of main ingredients.