Basic Approach
At the Maruha Nichiro Group, marine resources are the lifeblood of our business activities. As such, we believe that we have the important responsibility of minimizing the environmental impact of our business activities and promoting environmental management with a view to building a recycling-oriented society. Moreover, we recognize that the risk of resource depletion could lead to shrinking or shutdown of our business, so we also see addressing this issue as an opportunity to enhance the commercial advantages of the Maruha Nichiro Group.
Medium-term Sustainability Management Plan (FY2018–2021)
Reduce Waste and Improve Recycling Rates
Medium-term Goal

Reduce the volume of waste per unit of sales by more than 4% from 2017 to 2021
Aim for 99% waste recycling rate by 2021
Action Plan

Reduce manufacturing problems
Reduce waste of raw materials, resources and products
Turn waste into valuable resources
Status of Environmental Value (PDF: 244 KB/5 pages)
Results: Reduction of Waste
Led by our companies with factories, the Maruha Nichiro Group engaged in efforts to minimize product defects through process improvements, reduce waste produced by equipment through enhanced maintenance, and promote recycling. As a result, the total amount of waste emissions by the Group was lowered to 39.0 tons/billion yen in fiscal 2018. This represented a 1.2 tons/billion yen (3.1%) reduction compared to fiscal 2017. Furthermore, the waste recycling rate rose to 94.6%, a 0.1 percentage point improvement over the previous year (94.5%).
Waste Emissions Targets and Progress
Waste emissions per unit of sales (t/billion yen)
Waste Recycling Rate Target and Progress
(%)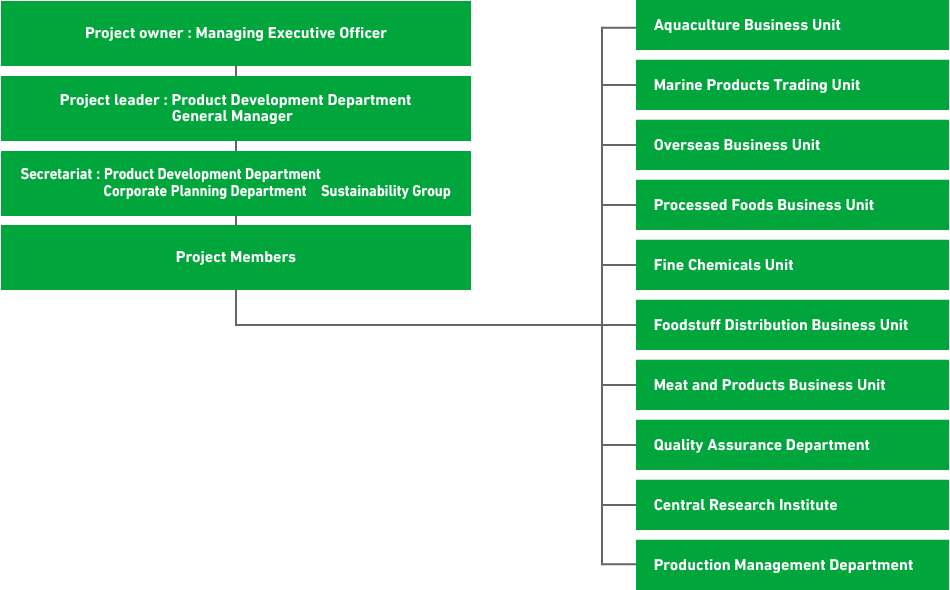 Reducing Waste from Raw Materials, General Materials, and Products and Converting Waste into Recyclable Materials
Case Study: Effective Utilization of Biogas power Generation
In fiscal 2013, the Maruha Nichiro Shimonoseki Plant installed biogas power generation equipment to make effective use of food waste such as waste syrup and food residue as biofuel. Being able to process this waste into biofuel has substantially reduced the amount of waste discharged by the factory. In fiscal 2018, the total amount of waste reduction came to 870 tons. We will continue to work on reducing waste.