Report Profile
Basic Approach
The Sustainability Report (online version) reports on targets for FY2021 and on major efforts, accomplishments, and changes in FY2020, with a focus on main objectives and with the Medium-term Sustainability Plan (FY2018 to FY2021) that started in April 2018 serving as a framework for management. We actively disclose quantitative data, and we will work to strengthen management and further expand information disclosure in the future.

This report provides a wide array of stakeholders with clear information on the Maruha Nichiro Group's sustainability efforts. To ensure the accuracy, transparency, and comprehensiveness of this information, the disclosures herein conform with the Core option requirements of the GRI Sustainability Reporting Standards ("GRI Standards" below). These standards provide a common global set of guidelines on disclosing information on sustainability.

*GRI Sustainability Reporting Standards: Guidelines published by the non-profit organization Global Reporting Initiative (GRI) that provide global standards for sustainability reporting.

*For the main objectives and GRI requirements, see the GRI Content Index.

The Group also publishes the Integrated Report, available as a printed booklet and in PDF format. This report contains both financial and non-financial information. In writing reports, we have referenced resources from the International Integrated Reporting Council (IIRC) to disclose information for investors and anyone else with an interest in the Group. For more on how we organize the information in the media the Group publishes, see the map below.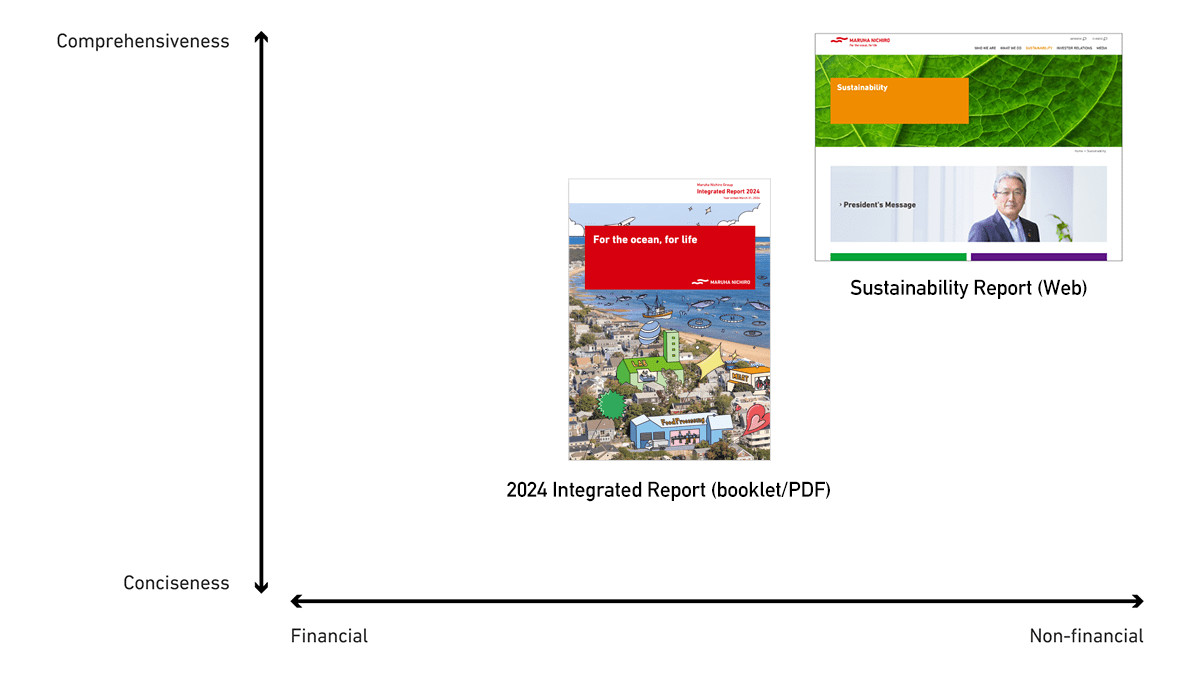 Reference Guidelines and Indicators
GRI Sustainability Reporting Standards
ISO26000 Guidance on Social Responsibility
Ten Principles of the UN Global Compact
Sustainable Development Goals (SDGs).
Ministry of Economy, Trade and Industry Guidance for Value Creation
Reporting Period
FY2020 (April 2020 – March 2021)
*Some information from April 2021 or later also included.
Organizations Covered by Reporting
77 companies subject to consolidation in the Maruha Nichiro Group
*Some organizations may not fall within the scope of reporting, depending on the matters being reported. Reporting of limited scope is denoted as such.
Disclaimer
Neither this reporting media nor any of its contents whatsoever were produced for the purpose of encouraging investment. We ask that investors take personal responsibility for their investment decisions. Other than information providing facts on the past or present, the contents of this report contain plans, forward-looking forecasts, strategies, and other such information that was available at the time of the report's writing. Therefore, the contents come with an element of risk and uncertainty with regard to such matters as economic conditions, market trends, changes to laws and other systems, etc. Accordingly, due to these various factors, the reader should understand that any performance or other information announced in the future may vary.