Innovation Toward 2021: the new medium-term management strategy to facilitate Maruha Nichiro Group's long-term corporate vision over the next four years, beginning 2018.
Long-Term Corporate Vision
To be a global general food company that produces and sells marine products and other processed food under Maruha Nichiro brand.
To maximize profitability through extending leveraging value chain.
To become the world No.1 global seafood supplier.
To become the No.1 frozen and nursing care food supplier in Japan.
To become a leading manufacturer of marine-based functional products.
Overview of Innovation toward 2021
Enhance Enterprise Value and Generate Sustainable Growth
Three management strategies in the first four years to achieve long-term corporate vision
Further Increase in Profitability

Optimize value chain, leveraging broader accessibility to marine resources
Realize cost saving opportunities in processed food business
Invest in Growth

Extend global seafood value chain
Invest in processed food manufacturing facilities
Invest in business areas in line with mid to long-term growth
Strengthen Business Foundation

Build a strong balance sheet that supports business priorities
Enhance R&D and technical capability
Improve human resources, brand management, and IT infrastructure
Further Increase in Profitability
Marine product and processed foods will drive profit growth over next four years
Value chain optimization by leveraging broader accessibility to marine resources
Fisheries & Aquaculture

Expand egg-to-harvest Bluefin tuna farming
Launch new farming techniques to add new types of fish
Trading

Develop value-adding products and brands
Expand domestic processing capabilities
Overseas Business

Improve cross-border strategy planning and operations
Integrate value chains across domestic operations of marine product and processed food
⇒10%+ operating income CAGR* target
Fisheries & Aquaculture/Trading/Overseas OP target by segment
(JPY in billions)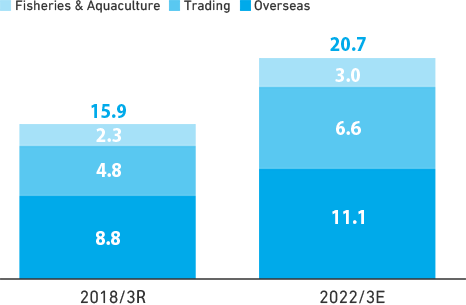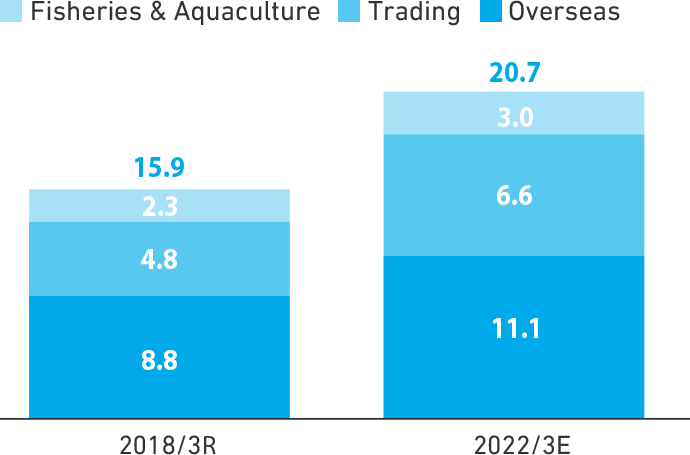 Increase Profit in Processing Segment
Processing

Improve profitability through optimizing production
Reduce production cost (purchasing cost and PD cost)
Manage for profit across processing and sales and marketing
Revive underperforming businesses
Reinforce product development capability ⇒ 10%+ operating income CAGR* target
Processing OP target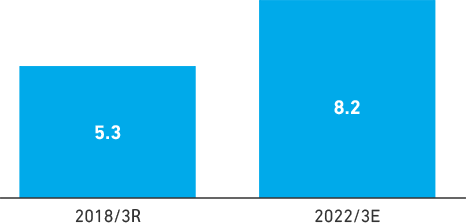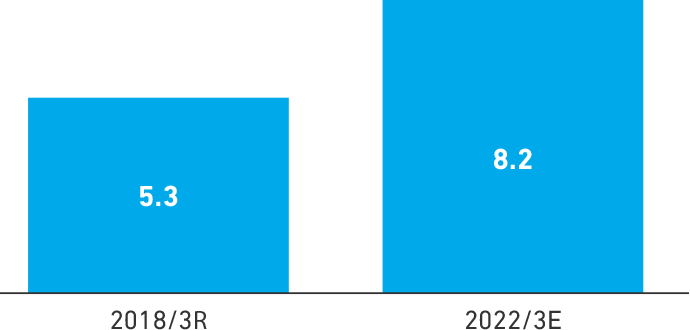 *CAGR: Compound Annual Growth Rate
Invest in Growth
Increase investment to improve profitability
Investment in Marine Product Value Chain in and out of Japan

Trading/Overseas

Acquire further accessibility to marine resources
Maximize value of existing to marine resources
Expand global processing and sales operations
Active Investment in Frozen Foods

Processed Foods

Optimize production facilities
Expand core-product production capacity
Optimize with AI and IoT
Proactive Investment in Growing Business

Fisheries & Aquaculture

Expand egg-to-harvest Bluefin tuna farming
Farm additional fish species and enhance farming techniques
Deploy land-based farming and overseas farming

Processed Foods

Expand nursing care food
Expand fine chemical business
Strengthen Business Foundation
Prioritize investments that improve financial performance
OP CF ~134 B yen
Investment ~110 B yen

Strategic Opportunities ~48.5 B yen

Investment in key growth drivers― Overseas and frozen food
Proactive investment in mid to long-term growth area― Aquaculture, nursing care food, and fine chemicals
Continue to monitor ROIC

Infrastructure ~23.5 B yen

Reconstruction of cold storage
IT investment

Maintenance ~38.0 B yen

Replace outdated facility
Advance dechloroffluorocarbonizing initiatives
Interest-Bearing Debt

D/E ratio 1.5x Equity ratio 30%+
Shareholder Return
Financial Targets
| | FY2021 Target | FY2017 Result | Change |
| --- | --- | --- | --- |
| Net Sales | 1 Trillion Yen | 918.8Billion Yen | 81.2Billion Yen |
| Operation lncome | 31 Billion Yen | 24.5Billion Yen | 6.5Billion Yen |
| ROA | 5.7% | 5.5% | +0.2pt |
| D/E Ratio | 1.5x | 2.3x | -0.8x |
| Equity Raito | 30.0% | 22.3% | +7.7pt |
Targets by Segment
Segment
FY2021 Target
FY2017 Result
Change
Net Sales
OP
Net Sales
OP
OP
Fisheries & Aquaculture
44.1
3.0
38.3
2.3
+0.7
Trading
470.8
6.6
449.5
4.8
+1.8
Overseas Business
180.6
11.1
169.4
8.8
+2.3
Processing
275.6
8.2
232.6
5.3
+2.9
Logistics
17.6
1.8
16.0
1.9
-0.1
Others
14.3
0.4
13.0
0.8
-0.4
Common Cost
-
-
-
0.7
-0.7
Total
1,000
31.0
918.8
24.5
+6.5