Basic Policy
The Maruha Nichiro Group adopts an organizational structure in which risk management, led by the Maruha Nichiro Corporation Risk Management and Control Department, is carried out through the collaboration of risk management supervisors and risk management staff in each division of Maruha Nichiro Corporation and each group company.

Serving as the control center for group-wide risk management, the Risk Management and Control Department continuously manages the various risks inherent in the normal daily business activities of the group, and by advancing improved business practices, works toward a model of risk management that seeks to identify and prevent potential risks and crises before they occur.
Additionally, the department plays a key role in crisis management during times of emergency, such as major accidents or large-scale natural disasters that could threaten the survival of the company.
Prompt and Reliable Transmission of Risk-Related Information
We have established multiple information transmission routes so that important risk-related information is conveyed to our executives in a prompt and reliable manner.

Information related to risks occurring in the group is not only reported to the president of Maruha Nichiro Corporation through the normal official routes, but also reported directly from the risk management staff placed within each division of Maruha Nichiro Corporation and each group company to the relevant division of Maruha Nichiro Corporation's Corporate Department, as well as the Risk Management and Control Department.

The Risk Management and Control Department takes measures to maintain and improve our risk management systems by actively promoting educational and training activities and risk-related communication with each division and group company.

Through these initiatives, we strive to create a corporate culture in which taking prompt action is promoted by heightening sensitivity and awareness to risks throughout the group while maintaining transparency of information.
Risk-Related Information Flowchart (As of April 1, 2017)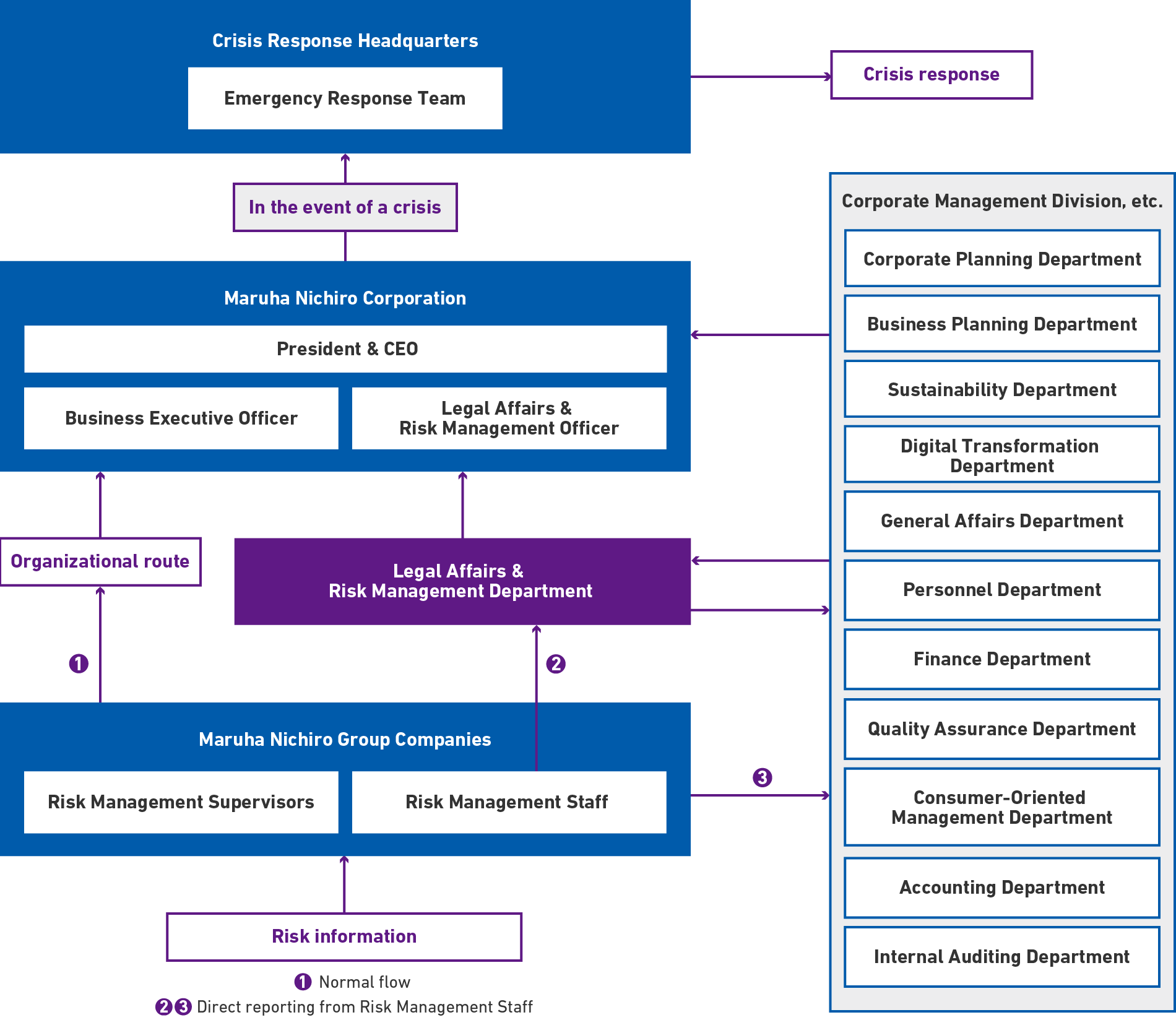 Business Continuity Planning (BCP)
The Maruha Nichiro Group has established and implemented basic policies for business continuity planning (BCP), and accordingly maintains and manages important business operations to ensure the safety of our employees and their families during times of emergency such as natural disasters or epidemics.
Large-Scale Earthquake Countermeasures
Measures are continually taken to improve the Maruha Nichiro Group Business Continuity Planning (BCP) Regulations as a precaution against Tokyo area earthquakes. Drills are regularly conducted and plans revised accordingly as improvement measures toward a more highly-functional system while progressively incorporating BCP measures at group companies.