Basic Policy
The Maruha Nichiro Group strives to achieve sustainable growth and implement improvements in corporate values focusing on the long term by building equitable and productive relationships with our stakeholders. To this end, we place importance on ensuring operational integrity, transparency and efficiency while working to enhance corporate governance utilizing measures to accelerate decision making and strengthen oversight.
Corporate Governance  Framework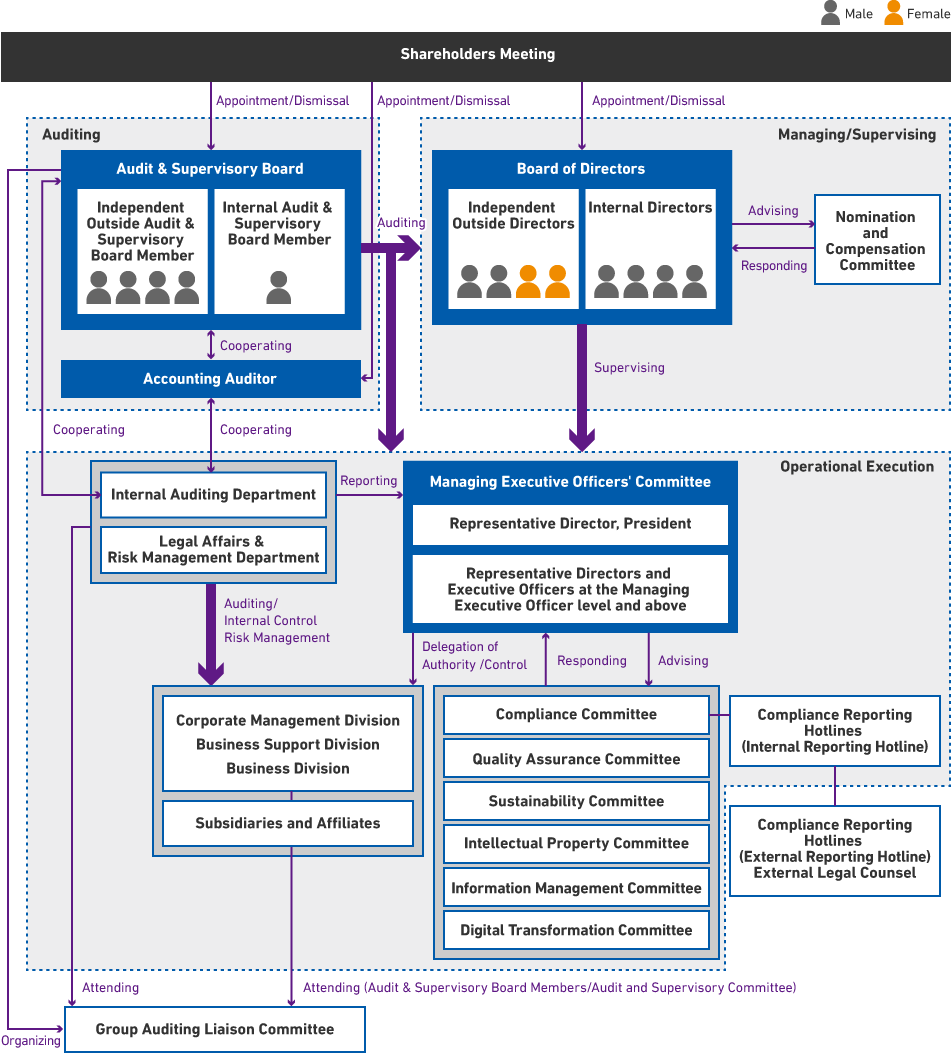 (As of Apr 1, 2022)
Directors, Board of Directors, Executive Officer System and Executive Committee
As of June 28, 2022, our administrative organizational structure has been comprised of 7 directors including three external directors, and our Board of Directors provides highly effective supervision from an independent and objective perspective by incorporating an executive officer system in which supervisory duties are independent of executive duties.

In fiscal 2021, Board of Directors meetings were held 18 times, including extraordinary meetings, with an average attendance rate of 99% for directors and 100% for auditors.

At Maruha Nichiro, the three highly-independent external directors are designated to serve as executive officers. To ensure that external directors can effectively contribute to in-depth discussions at meetings, the Board of Directors Secretariat will notify external directors in advance regarding the meeting agenda, action items to be discussed and other information pertinent to the meeting.

Executive committee meetings are generally held once a week in which decisions are promptly made on matters delegated by the Board of Directors, and items of importance are reported to the Board of Directors.
Audit & Supervisory Board Member and Audit & Supervisory Board
As of June 28, 2022, Maruha Nichiro has implemented a corporate auditing system involving seven auditors (four of whom are external auditors) and three of whom are engaged full time.

In fiscal 2021, Audit & Supervisory Board meetings were held six times, with an average attendance rate of 100%.

The board audits the work of directors by meeting and deciding on matters pertaining to audit policies, audit plans, audit methods, and auditor duties, and by attending high-level meetings including Board of Directors meetings, holding discussions with Maruha Nichiro directors and division directors, conducting site visits at domestic and overseas subsidiaries, receiving and reviewing the results of audits from, and exchanging opinions with, our accounting auditor, and regularly holding meetings of the Group Audit Liaison Committee.

In terms of initiatives to strengthen the function of our auditors, in addition to four highly-independent external auditor designated to serve as an independent officer, two external auditors who possess extensive financial institution experience and in-depth knowledge have also been assigned to relevant positions.
Accounting Audits
Maruha Nichiro has appointed KPMG AZSA LLC as our accounting auditor according to the Companies Act, as well as our accounting auditor according to the Financial Instruments and Exchange Act; however, there is no special interest between Maruha Nichiro and the relevant staff of KPMG AZSA LLC in any capacity.

Maruha Nichiro has concluded a contract with KPMG AZSA LLC for auditing services related to the Companies Act and auditing services related to the Financial Instruments and Exchange Act and pays compensation for audit services according to said contract.

In fiscal 2021, three certified public accountants (Toshiyuki Nishida, Kentaro Mikuriya, and Daiki Sato) conducted audits for us and were assisted by 10 certified public accountants and 17 other professionals during the process.

Our auditors and accounting auditor hold regular liaison meetings, audit inspections, and other information sessions to exchange opinions about the audit systems, audit plans, and the state of audit implementation at Maruha Nichiro and our group companies.

The accounting auditor conducts audits by collaborating with the department that implements planned internal audits at Maruha Nichiro and our group companies. Accounting audits involve inspecting and determining whether important items are accurately represented utilizing quarterly auditing of our financial statements.
Internal Auditing
Maruha Nichiro's Internal Auditing Department is staffed with 16 employees and acts as a control function to maintain compliance with related laws and regulations, guarantee the reliability of financial statements and reports, and verify work effectiveness and efficiency at Maruha Nichiro and our group companies.

The aim of our internal audits is to protect the assets of the Maruha Nichiro Group and achieve operational efficiency by monitoring and evaluating the managerial and administrative systems, as well as the work flow throughout our group company operations from legal and practical perspectives, and to report the results and propose improvements and recommendations.

The role of the Internal Auditing Department is to review policy implementation in coordination with the corporate auditors before internal audits are conducted at Maruha Nichiro and our group companies, and then report the results to the auditors.
Compensation for Directors and Corporate Auditors
Compensation for the management and directors of Maruha Nichiro comprises fixed compensation and performance-linked compensation. Performance-linked compensation is evaluated based on consolidated ordinary income, while external directors receive fixed compensation only. We have established a Nomination and Compensation Committee as an advisory body to the Board of Directors. This committee deliberates on matters including the compensation system and level, and compensation is determined by resolution of the Board of Directors.
Further Increase in Profitability
Executive Officer Category
Amount Awarded *
(millions of yen)
Number of Recipients
Fixed
Performance-
linked
Directors (No. of external directors)
261 (27)
8 (3)
223 (27)
37 (-)
Auditors (No. of external auditors)
86 (65)
6 (5)
86 (65)
- (-)
Total (No. of external executives)
348 (93)
14 (8)
310 (93)
37 (-)
*Based on the resolution of the 78th Ordinary General Meeting of Shareholders held on June 28, 2022, we have introduced a performance-linked stock compensation plan called the "Stock Benefit Trust (BBT (= Board Benefit Trust))" for its directors (excluding external directors and domestic non-residents) and executive officers (excluding domestic non-residents).