Basic Policy
The Maruha Nichiro Group believes that corporate social responsibility (CSR) is achieved by reliably executing our group philosophy of "contributing to the betterment of people's daily lives by providing wholesome, safe and healthy food with sincerity and integrity." Based on this belief, we have adopted an organizational structure in which the Executive Committee plays a role in advancing CSR management.

To promote compliance, we have established the Maruha Nichiro Group Compliance Committee with the goal of early detection and prevention of any violations of laws or regulations within the group, and increased awareness throughout the company regarding compliance with laws and regulations.
Organizational Structure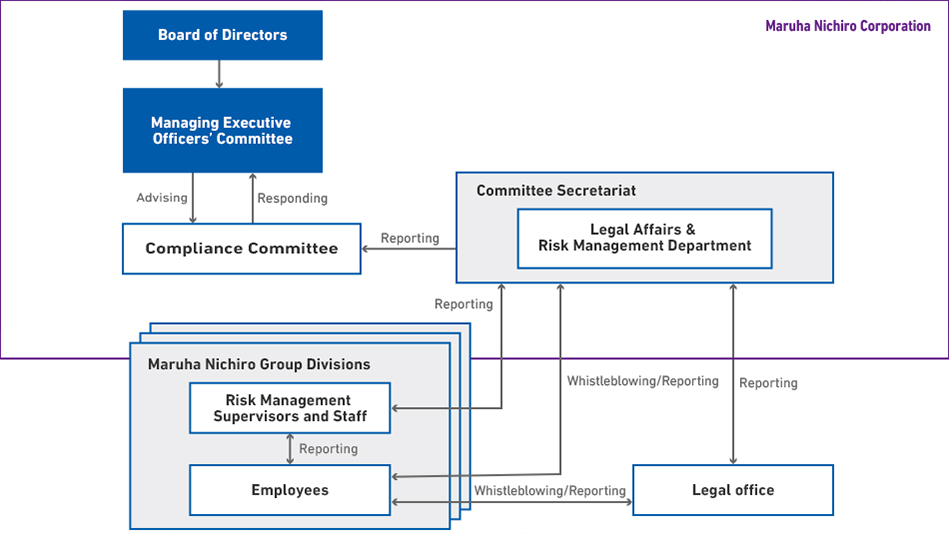 (As of April 1, 2017)
Internal Reporting System
The Maruha Nichiro Group has established an internal reporting system to enhance our capacity for self-correction. There are internal and external points of contact to receive inquiries and reports from employees. All employees working in the group can directly access these contact points via telephone, e-mail or standard mail without going through their supervisor. We also strive to protect employees by accepting anonymous notifications.

All Maruha Nichiro employees are issued company cards and handbooks which outline and explain the company's philosophy. These materials include the contact information for the report hotlines so employees know where to turn to when necessary.